We were recently contact by Christine and Roz, two special educators in Westchester, NY who have started a small startup business called "
Crafts on Wheels
". Through their experiences with special needs kids, they realized that there is a real need for arts and crafts kits specially designed for children with disabilities. As Roz told us, "As educators, we realize the need for children with special needs to have and create a fun activity in the comfort of their home. Many of our special education families have limited access to activities developed for children with special needs."
Designed for Families on the Go
We were so impressed that we had them come to our studio to show us their new product. We spent a lovely afternoon with them, brainstorming some ways for them to jump start their business and improve on their product. They have done an amazing job and we absolutely LOVE their concept. It's so important for arts and crafts kits to be geared towards the abilities of the users. PLUS, Crafts on Wheels is designed to go on the road. The kits provide parents with a fun yet instructive way to occupy their child's attention on the go... at restaurants, in airplanes, in the doctor's office, even on long car rides. Here's some information, direct from Christine and Roz:
"At "Craft on Wheels", we create Arts and Crafts Kits for the family who is always on the go. Our NO MESS craft kits are an excellent way to keep the kids busy at a restaurant, on a plane, at the doctor's office, on the beach, or even in the comfort of your own home.
We created this concept so that children, ages 3 and up, can begin to utilize tools which are designed to improve development of fine motor skills, increase hand-eye coordination, and further develop creativity through the arts.
Each Arts and Crafts Kit comes with:
1 Keepsake Box Hand Created Artwork 2 Designs on Card Stock Colorful Wax-Like Sticks Assorted Washi Tapes Assorted Chalk Stampers Glitter Pens Pom Poms Buttons
When your child is finished, he or she can use the keepsake box and fill it with virtually anything! The keepsake box can be used for sports memorabilia, jewelry, accessories, and so much more! The color sticks are made from wax and are a great fine motors practicing tool. We put theses colorful sticks in our craft kits because because they STICK! You can stick anything to them without making a mess. And we are proud to say that our product is teacher-created in the USA."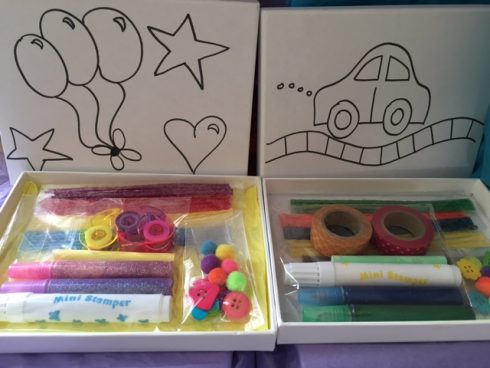 Spread the Word
We are 100% behind Crafts on Wheels. It's a fabulous idea with a great mission and a great product. Check them out on their website at
www.craftsonwheels.org
or like their Facebook page "
Crafts on the Go
" and "
Crafts on the Go for Special Needs
".