Note: The Fazzino luggage sets are currently in development. If you don't want to miss when they hit the market, click here to join the collectors club to stay up-to-date on new products and more.
Whimsical Fazzino 3-D Pop Art Featured on Colorful Luggage Set by Visionair
What happens when an icon of modern art meets a leader in the art of modern luggage? The result in this case is an exciting new collection by revolutionary newcomer to the luggage industry, Visionair, printed with the fun, whimsical 3-D art of famed pop artist Charles Fazzino.
The collection is the most vivid, highest quality, most functional set of Fazzino hard side suitcases ever made. Launched at the 2015 International Travel Goods Show in Las Vegas in March, it will feature the quintessential Fazzino image of New York City.. The Big Apple. The design comes in three sizes, 22′ carry-on, 26′ spinner and 30′ spinner, all perfect for both business and leisure travel.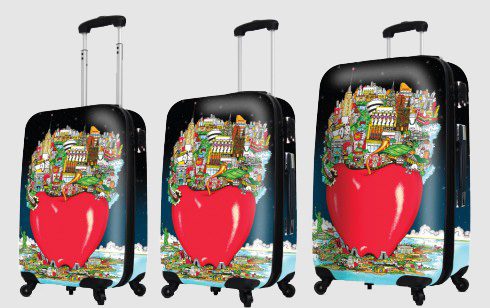 Stand Out in A Crowd with Artistic Luggage
Fazzino fans will enjoy traveling with these whimsical, boldly-printed, high-quality artistic luggage sets featuring New York City art from this international icon of 3D pop art. Not only do the pieces look great – they are also incredibly lightweight, extremely durable and flexible. The 4-wheel spinner system allows the pieces to smoothly glide across any surface. There are many other high-quality features – a built-in 3-digit TSA approved lock, ergonomically designed internal aluminum telescoping system, easy push-button locking and release for single-handed use and fully lined interior with multi-function tie-down straps and zippered dividers for easier organizing.
You can getting your eye-popping Fazzino luggage at fine luggage retailers everywhere or by emailing Valerie@Visionairluggage.com.