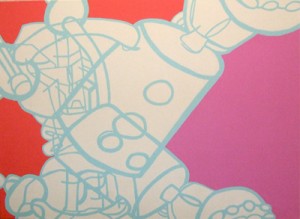 I often like to feature the artwork of artists I meet during my travels on this blog. While I was in Austin a few months ago, doing the show with Michael Godard at The Russell Collection Gallery. I met Jenny Meyer, an aspiring artist and collector. She told me about her work and later emailed me some images. I find her work very interesting…she has a great sense of movement and her compositions are thought-provoking and colorful. I like her palette very much. The images I'm showing here are from a new collection she is working on.  Here is a description in her own words.
"During the weekend of "Art City Austin," I met Charles when I went to see his show at the Russell Collection Gallery in Austin. I was really drawn to the style of his work, the 3D element in his pieces, and his use of color. It was one of the best shows I've seen in Austin. Charles was very kind in taking the time to discuss various art ventures with me.
I have a BFA from the School of the Art Institute of Chicago where I studied in the Advanced Painting department. I now work out of Austin, but my hopes as an artist, are to have my paintings exhibited in prestigious galleries around the world, along with a great fan base and consistent collectors.
My style of work is considered abstract, modern, pop art. My influences come from different forms of entertainment, such as games, toys, and cartoons. I enjoy taking existing forms from popular culture, and abstracting them to create new and exciting shapes. My work is very optimistic, which is why I use bright colors. I hope my whimsical paintings are able to put my audience in a cheerful and inspire them to play.
I am working on a new series that is combining human and robot forms. The robots in this series represent technology. The concept behind this is that we have created technology and, in a way, it has kind of taken over our lives–and become us. So, these pieces are focusing on hybriding robot forms with humans. In a way, that mirrors our own lives, because we so heavily rely on technology now and take its usefulness for granted. I wanted to have a playful take on the idea, and approach it in a whimsical manner by my use of color and cartoon imagery, as to make it more light-hearted and approachable."