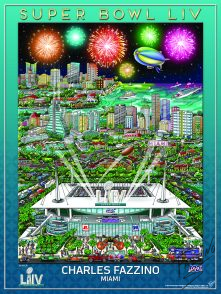 Media Contact:
Michael Weitz/917-327-6245
Weitz Communications
January 16, 2020
MIAMI DOLPHINS STAR DEFENSIVE TACKLE DAVON GODCHAUX TO JOIN FAMOUS POP ARTIST CHARLES FAZZINO AT A VIP/MEDIA RECEPTION PRESENTED BY WANDERING WINES FEATURING THE UNVEILING OF HIS OFFICIALLY LICENSED NFL COMMEMORATIVE ARTWORK FOR SUPER BOWL LIV AT THE SEMINOLE HARD ROCK HOTEL & CASINO HOLLYWOOD ON FRIDAY, JANUARY 24 AT 1 PM
Charles Fazzino's Commemorative Super Bowl LIV Collection To Be On Display At Wentworth Gallery At  Seminole Hard Rock Hotel & Casino  Hollywood
 Portion Of Proceeds Of The Sale Of Charles Fazzino's Officially Licensed Super Bowl Posters To Benefit Davon Godchaux 
Who:      Davon Godchaux, DT, Miami Dolphins & Walter Payton NFL Man of the Year Nominee
                Mathias Kiwanuka, Former NY Giants Super Bowl Two-Time Champion & CEO of Wandering Wines
                Charles Fazzino, Officially Licensed Artist of Super Bowl LIV
What:      VIP/Media Reception Presented by Wandering Wines Featuring the Unveiling of Charles Fazzino's Officially Licensed NFL Commemorative Artwork for Super Bowl XIV 
When:     Friday, January 24 @ 1 p.m.
Where:    Seminole Hard Rock Hotel & Casino Hollywood (Wentworth Gallery, Suite 103) 
 ____________________
About Charles Fazzino
Charles Fazzino — one of the most popular artists in the world — is an officially licensed artist of the National Football League and the Super Bowl (2000-present).
Charles Fazzino is also an officially licensed artist for the 2020 MLB All-Star Game to be played at Dodger Stadium in Los Angeles on July 14, 2020. He has also created official artwork for high profile events, including: the Olympic Games, Fort Lauderdale Centennial, Monster Energy NASCAR Cup series, NHL All-Star Game, Belmont Stakes, Daytona 500, Indy 500, Andy Roddick Charity Gala, U.S. Tennis Foundation, CMA Awards, Grammy Awards, NBC's "Today" Summer Concert Series, and the President William J. Clinton Presidential Foundation, among many others.  Charles Fazzino recently was commissioned by NBC Sports to create commemorative artwork for Sunday Night Football to celebrate its record of being 7 years of Primetime Television's #1 Show.  For additional information, please visit: www.fazzino.com.
About Davon Godchaux
Davon Godchaux is a defensive tackle for the Miami Dolphins. He was originally drafted by the team in the fifth round of the 2017 NFL Draft. Davon attended Louisiana State University. Godchaux is the Dolphins Walter Payton Man of the Year nominee, an award that honors NFL players for their commitment on the field and dedication to their community off the field.
About Wandering Wines
Wandering Wines was co-founded by former NY Giants two-time Super Bowl Champion Mathias Kiwanuka and his two close friends who with their passion for wine and travel came together to travel the globe, and create something that honors the tradition and history of winemaking. Over the years, their passion for wine grew stronger as they traveled to Chile, met with incredible sommeliers, and truly began to understand the process of wine making. It was there, in the Maule Valley, that they decided to begin their mission. Wandering Wines is about getting the most out of life's adventures and finding something undiscovered along the way. For additional information, pleas visit www.wanderingwines.com
About Seminole Hard Rock Hotel & Casino
Seminole Hard Rock Hotel & Casino Hollywood is the flagship casino resort of Hard Rock International, owned by the Seminole Tribe of Florida. This world-renowned entertainment, gaming and hospitality destination unveiled a $1.5 billion expansion on Oct. 24, 2019.  New offerings include 638 upscale guestrooms in the first-ever Guitar Hotel, 168 luxury guestrooms and unique swim-up suites in the adjacent Oasis Tower at Seminole Hard Rock Hotel & Casino Hollywood, and 465 newly redesigned guestrooms in Hard Rock Hotel for a combined room count of 1,271 throughout the resort. Additional  amenities include the lush, "Bora Bora" style lagoon with private cabanas and butler service; a 42,000 square-foot Rock Spa® & Salon; a 13.5-acre recreational water experience for swimming, kayaking and paddle boarding; 19 dining outlets and 20 bars and lounges; an expansive gaming floor with 3,100 slots, 195 table games and a 45-table poker room; 120,000 square feet of premier meeting and convention space including a 38,000 square-foot, carpeted exhibition hall; and a 26,000 square-foot retail promenade. The highly anticipated Hard Rock Live entertainment venue with a 7,000-person capacity, will showcase A-list entertainers, comedy acts, Broadway performances, sporting events and live broadcast productions. The integrated resort is located on 87 acres of the Hollywood SeminoleReservation along State Road 7 (U.S. Highway 441), and is 10 minutes from Fort Lauderdale/Hollywood International Airport and 30 minutes from downtown Miami and Miami International Airport. For more information, visit us online at www.seminolehardrockhollywood.com, call 800-937-0010 or follow us: Facebook: SeminoleHardRockHollywood, Twitter: @HardRockHolly, Instagram: @HardRockHolly.
About Chaux Down Foundation
Founded by Davon, the mission of Chaux Down is to teach young kids the importance of nutrition, exercise and healthy habits.