Whimsical Fazzino 3-D Pop Art Featured on Four Colorful Luggage Sets by Heys USA
What happens when an icon of modern art meets a leader in the art of modern luggage? The result in this case is an exciting new collection of unique luggage by Heys USA printed with the fun, whimsical 3-D art of famed pop artist Charles Fazzino.
The collection, launched at Macy's Herald Square during Fashion's Night Out in September, includes four distinct contemporary, colorful luggage sets printed with Fazzino's destination-based art. Each set depicts one of four popular vacation destinations: New York, Venice, Paris and London, as only Fazzino can portray those lively cities, with his signature bold, detailed pop-art.
The brightly-colored luggage sets all include four different pieces of "The World's Lightest Carry-on Luggage," invented by Heys USA, a leader in hard side luggage manufacturing. In each set, there are 22', 26' and 30' upright rolling hard side spinners, plus a matching beauty case, making the luggae sets perfect for both business and leisure travel.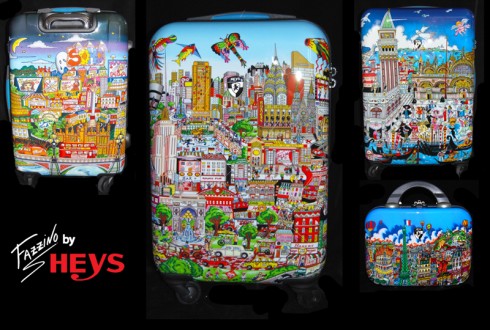 Stand Out in A Crowd with Artistic Luggage
Fazzino fans will enjoy traveling with these whimsical, boldly-printed, high-quality artistic luggage sets featuring cityscape artwork from this international icon of 3D pop art. Not only do the pieces look great – they are also incredibly lightweight, extremely durable and flexible. The patent-pending AirGlide® 4-wheel spinner system allows the pieces to smoothly glide across any surface. There are many other high-quality features – a built-in 3-digit TSA approved lock; heavy-duty zippers; a cushioned handle grip; stylized, fully-lined interiors that compliment the shell art; and a built-in divider and mesh pocket for easier organizing.
The only possible problem? With four unique luggage sets to choose from, featuring incredible designs that truly pop, how do you choose only one?