The United States Olympic Committee just threw a huge 100-day out celebration in New York City for the upcoming Olympic Games in Rio Brazil. First Lady Michelle Obama and The Band Perry joined Today Show anchors Matt Lauer and Natalie Morales for this stop on the Road To Rio Tour presented by Liberty Mutual Insurance. At the same time, Charles Fazzino released his new officially licensed art collection for Rio…a limited edition 3D print, an embellished limited edition flat print, and a 3D Collectors Pin. The entire Fazzino Summer Olympic Games Art Collection will be on display at the USA House in Rio during the Games.
The three-dimensional limited edition consists of 200 Deluxe prints at an image size of 16″ x 12″. The flat fine art print consists of 250 signed and numbered pieces at an image size of 24″ x 18″.  Contact your favorite Fazzino dealer for pricing and availability or email us at info@fazzinocollectors.com for more information.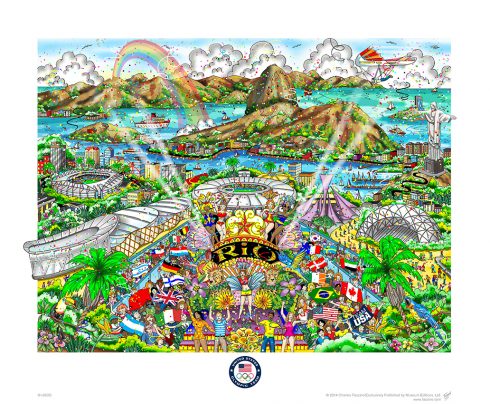 The collectors pins are the latest in a series of Charles Fazzino Olympic collectibles that began in 2004 with the Athens Olympic Games. The three-layered pin is derived from the limited edition artwork and captures the beauty, excitement, and majesty of Rio. email us at info@fazzinocollectors.com for more information about the pins.