American Airlines was evidently thrilled with the 12′ 3D New York mural Charles Fazzino created for them and installed at JFK International Airport in 2010. That mural took almost a year to create and several days to install in three separate panels.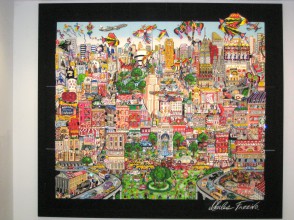 They recently tapped the artist again….this time sending him an 8′ airplane art sculpture to play with. Initially, Fazzino was stumped by the piece. "Whenever I see a new object, it's always a bit of a mystery," said Fazzino. "I have to come up with an approach that allows incorporates my 3D pop art technique, but in such a way as to allow for a sculpture that will be permanently fixed and low-maintenance. It's always a challenge…but one that i love."
Fazzino played around for weeks with ideas for the art airplane before finally landing on the concept. You can watch this video to hear about it in the artist's own words. In the coming days, we'll show you how the plane was made and how it was unveiled recently in a ceremony at JFK International Airport.