I'm working with Mohegan Sun, the amazing casino and entertainment resort built by the Mohegan Tribe in Connecticut. Mohegan Sun hosts the New York telecast of the annual Jerry Lewis Labor Day Telethon to benefit the Muscular Dystrophy Association.  As part of the celebration, I'm setting up a week-long exhibition of my work on the main concourse of the resort…..also to benefit the Muscular Dystrophy Association. We'll be there September 2nd through the 7th for the Labor Day Holiday weekend.
I'm proud to be a National Vice President of the MDA. It's an organization that's close to my heart. I've worked with kids stricken with these terrible diseases and i'm always looking for ways to stay involved and to raise funds.
On Sunday night, Mohegan Sun will also host a fantastic event. It's called "Party with a Purpose" and it's a huge pre-telethon bash benefitting MDA in their main ballroom…dinner, cocktails, dancing, and more! I'll be showing my work there too. Tickets to the event are $80. It's a great cause and we'll have a great time. Come and join me there! You can buy tickets by calling 203-248-6500 or by visiting the Mohegan Sun Box Office.
Oh…and I almost forgot…i'll be unveiling a brand new piece created exclusively for Mohegan Sun!
–Charles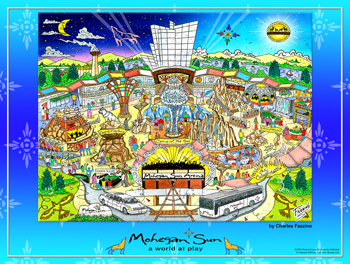 Come Join Us!
From September 3rd through September 7th,  I will be setting up an exhibition of my work on the main concourse