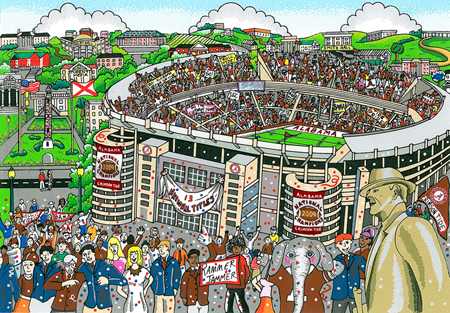 So, my winning streak continues. People tell me i have a knack for picking winners. At the BEGINNING of the 2008 NFL season, i was contemplating which teams to release limited editions for. I decided to do the New England Patriots and a new NY Giants edition. Well, guess who was in the Super Bowl that year! Back in 1996, I did my first Yankees edition. Guess who won the World Series in 1996? In 2003, I released "Red Sox Fever." Guess who won the World Series in 2004???
Well, now it's the Alabama Crimson Tide's turn to benefit from the Fazzino pop art magic touch! Almost a year ago, Steiner Sports approached me about doing an edition on the Crimson Tide. That's how long the artwork has been in development. Steiner released the edition about four months ago. Well….GUESS who just won the National Championship? So, if you're a Crimson Tide fan…and I know you're all over the country…I've heard from many of you…I hope you'll appreciate this limited edition.
If you're interested in it, visit SteinerSports.com or call them at 800-759-SCORE!