The Flair of Charles Fazzino's Celebrity Art
When it comes to celebrity art, few artists have captured the essence of popular culture's most beloved iconic figures quite like Charles Fazzino. Through his unique and recognizable 3d pop art style, Fazzino is expert at bringing famous personalities to life on the canvas, adding to his lasting legacy in the world of art.
Capturing Iconic Figures: Themes in Fazzino's Celebrity Art
Fazzino's celebrity art revolves around the theme of capturing iconic figures from various walks of life. From Hollywood legends to sports icons and influential political figures, Fazzino's body of work encompasses a wide range of personalities.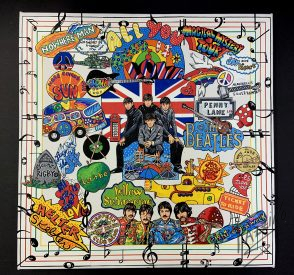 What sets his art apart is the distinctive 3D pop art style, which adds depth and a sense of liveliness to each piece. Fazzino's attention to detail and unique crafting of each artwork allow viewers to truly experience the magic and charisma of these famous figures.
Honoring Hollywood Legends
Hollywood Legends are frequently the subject of Fazzzino's celebrity art. Fazzino's pieces showcase the glitz and glamour of the silver screen, bringing beloved actors and actresses, like Marilyn Monroe, to life.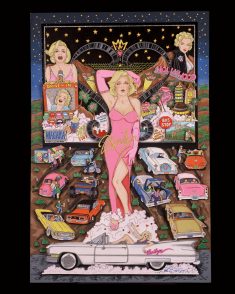 Another Fazzino favorite is this iconic painting of Marlene Dietrich, set against a background of old Hollywood. The black & white color scheme adds to the mystique of one of Europe's most famous actresses.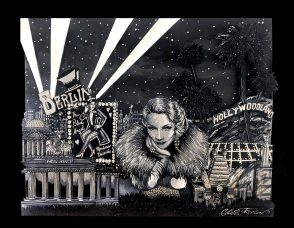 Fazzino's "Forever James Dean" immortalizes the enigmatic actor's essence, radiating his rebellious charisma through intricate layers of color and form.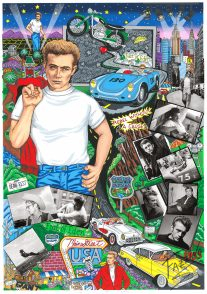 Honoring Musical Icons
Other popular and exquisitely crafted pieces feature pop music icons like Michael Jackson. Fazzino's art serves as a tribute to celebrity contributions to pop culture and the timeless influence they continue to exude.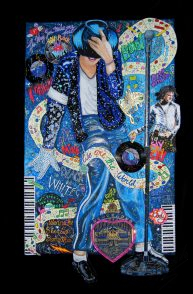 Fazzino's music art transforms legendary musicians into vibrant visual stories. Using his distinctive 3D pop art technique, he captures the essence of Michael Jackson's moves, Madonna's charisma, The Beatles' harmony, and The Rolling Stones' rock 'n' roll spirit.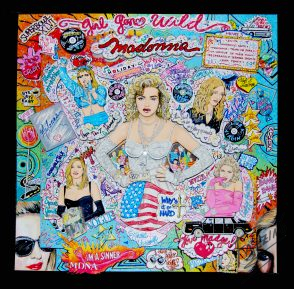 These artworks pay tribute to the enduring impact of these music icons, inviting us to feel the rhythm and groove of their artistic legacies.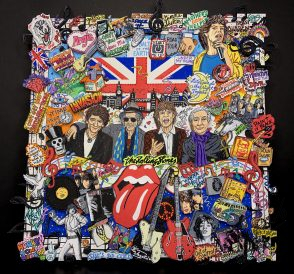 Sports Legends in the Spotlight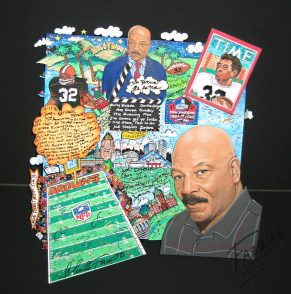 Fazzino's celebrity art isn't limited to the stage or the big screen. While his Super Bowl Collections have been particularly popular in recent years, Fazzino has honored notable sports legends in both football and baseball. His intricate and vibrant pieces celebrate the thrill of sports, bringing to life the intensity of the game and the dedication of athletes. Featuring iconic figures like Jim Brown and Lawrence Taylor, two legends who left an indelible mark on the world of American football, Fazzino immortalizes these athletes in action, conveying their power and determination. Each artwork becomes a visual narrative that not only pays homage to the athletes' achievements but also invites viewers to immerse themselves in the heart-pounding world of sports.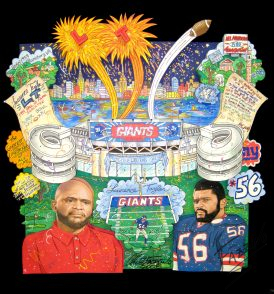 Fazzino's baseball art pieces encapsulate the essence of America's favorite pastime with an unparalleled burst of color and motion. His tribute to baseball legends like Derek Jeter and Mariano Rivera transcends mere representation, capturing the spirit of their remarkable careers in a dynamic visual spectacle.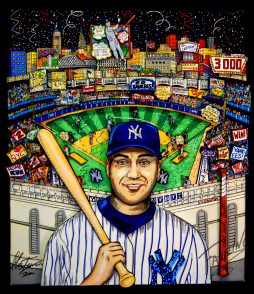 The Appeal of Celebrity Art in Popular Culture
Celebrity art holds a special place in popular culture, offering a unique way for fans to connect with their favorite personalities. Fazzino's celebrity art taps into this universal appeal by creating iconic pieces which allow viewers to connect to the figures depicted.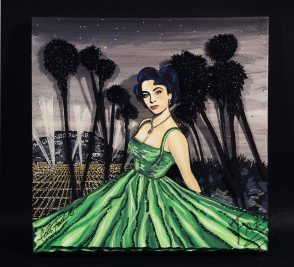 These artworks become more than just images on a canvas; they become portals to memories, aspirations, and the fascination we hold for celebrities. Fazzino's art captures the collective imagination, providing a visual narrative that resonates with fans and enthusiasts alike.
Fazzino's Legacy in Celebrity Art
Charles Fazzino's distinctive style and dedication to his craft have earned him recognition and admiration from art enthusiasts worldwide. Fazzino's art has been exhibited in renowned galleries and museums, is collected by both art lovers and celebrity fans due to his ability to capture the essence of iconic figures and create a sense of wonder through his 3D pop art technique.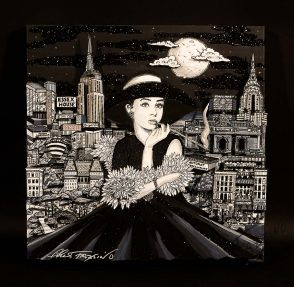 This celebrity art collection, along with other iconic Fazzino originals, continue to thrill even the most seasoned of collectors, leaving a lasting impression and becoming an important part of the Fazzino legacy.
Where to Find and Purchase Fazzino's Artwork
If you're interested in owning a Fazzino original, please contact us. Fazzino also offers private commissioned pieces, allowing collectors to add a truly unique creation to their collections. Additionally, we invite you to join the Charles Fazzino Collectors Club to stay up to date with the newest pieces and special events.