Coronavirus Threatens Our World
ArtsWestchester is the largest private, not-for-profit arts council in the state of New York with a mission to provide leadership, vision, and support, to ensure the availability, accessibility, and diversity of the arts. Charles Fazzino is proud to have his original painting titled "Coronavirus Threatens Our World" in the first public exhibition put on by ArtsWestchester since the beginning of the COVID 19 pandemic in 2020. Opening on May 7th, "Together apART: Creating During COVID," is an exhibition that reflects shared artistic experiences during the year of the pandemic through more than 250 works of painting, photography, sculpture, craft, song, and other creative activities by 224 Hudson Valley artists.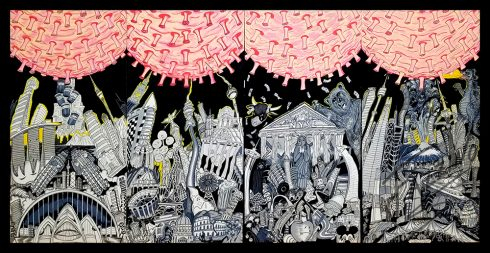 Together apART" is an exhibition of the creative projects that gave meaning and purpose to our lives at an unprecedented time. The diverse range of expressions reflect individual contemplations on the year of the pandemic, yet also highlight the shared experiences of this unique period in our common history — the togetherness in an era of apartness. CEO of ArtsWestchester Janet Langsam explains, "COVID-19 has profoundly changed the contours of our daily lives. At this time of great loss and physical distancing, many of us have turned to creative outlets to help us cope, to express our anguish, and to gain agency when we feel helpless."
"I was all alone in my studio, I was so upset by what was going on in the world. The whole world. So many people struggling and so much chaos and upheaval. I had to get that out of me…so I just started painting," said Fazzino about his unique work. "I'm grateful to ArtsWestchester for assembling this collection that makes a powerful statement about the creative world's response to a worldwide event. I hope everyone has a chance to see it."
Gallery Information
The exhibition, sponsored by Westchester Magazine, is free and open to the public from May 7th through August 1st. COVID safety protocols will be in place. All guests must pre-register for a time slot and everyone is required to wear masks and observe social distancing. Entry will be staggered every 30 minutes and the gallery will be open from 12pm-5pm on Wednesday – Friday & Sunday. It will be open from 12pm-6pm on Saturdays. Visit ArtsWestchester or more information or to reserve your time slot to visit.
The gallery is available In-Person and Online from May 7 – August 1, 2021. Entry is every 30 minutes.
Here is what you need to know before you go!
Gallery Hours:
Wednesday – Friday: 12pm – 5pm
Saturday: 12pm – 6pm
Sunday: 12pm – 5pm