I've never opened up my studios to the public before and I'm excited to be doing so for the first time at the end of next week. The New Rochelle Council on the Arts hosts an annual Arts Festival  during which they have a free trolley that takes people all over the city to visit artists' open studios, museums, cultural centers, and restaurants. There are art exhibits to see, performances and dances to watch, interactive workshops for the kids, and great food to eat. It's a day of entertainment for the whole family.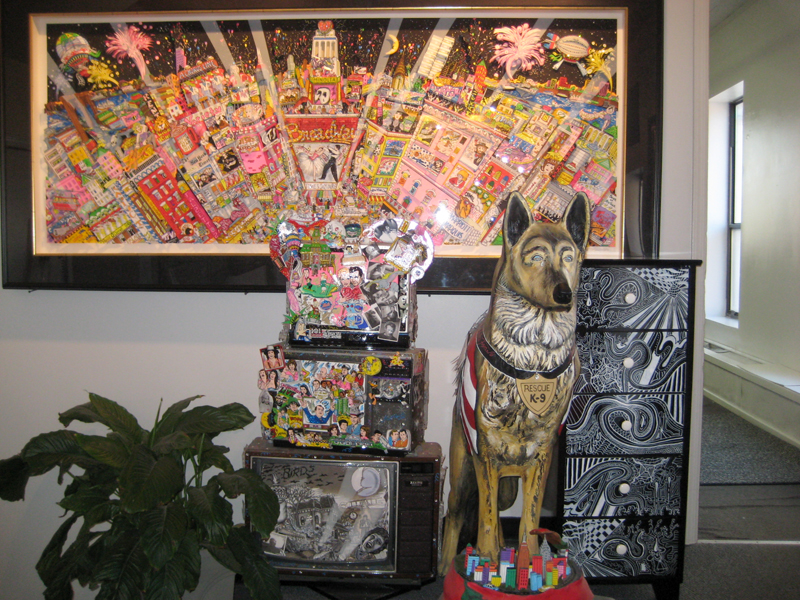 This year, they asked me if I would be willing to open up my studio and I said "yes."  My studio is actually housed in one of the original Terrytoons buildings…think Mighty Mouse, and Heckle and Jeckle. There's a lot of history here.  We've been sprucing the place up for you and have actually expanded into a completed showroom across the street from my original studio. We've prepared all sorts of demonstrations  to show you how I create my work, and loaded the walls with some never-before-seen art, along with all of my 3D pop art limited editions and current collections. I will personally be there on Friday and Sunday, but I have a show in Short Hills, NJ to attend on Saturday and will not be in New Rochelle.
There are three chances for you to come see us. On Saturday and Sunday, of course, we will be open to the public as part of the Arts Fest from 12pm to 5pm each day. However, we decided to also hold a Fazzino Collectors Club preview cocktail reception on Friday evening, October 1st from 4pm to 9pm. We hope you'll select a time that works for you and come see us. The invitation cards we've been sending out are below, but here's all the info again:
What: New Rochelle Arts Fest
When: October 2nd and 3rd (12pm – 5pm) with Private Reception October 1st  (4pm – 9pm)
Where: The Fazzino Studios at Museum Editions Ltd., 32 Relyea Place, New Rochelle, NY 10801
More Info: Call my studio at 914-654-9370 or email Grace at gbulfamante@fazzino.com to RSVP
Hope to see you there!
–Charles