On December 19th, Charles Fazzino appeared on the new Fox Sports Network show called "Crowd Goes Wild." Hosted by none other than Regis Philbin. The show is a light-hearted, very entertaining, talk show format covering the world of sports. Co-hosts Georgie Thompson, Michael Kosta, Trevor Pryce, Jason Gay, and Katie Nolan dish up an unpredictable and fun menu of some of the biggest sports and entertainment stories in the world. Fazzino showed off his latest Super Bowl creation – Super Bowl XLVIII and presented Regis with a personalized 3D print of his alma mater, Notre Dame. Everyone in the studio audience went home with a Charles Fazzino Super Bowl XLVIII fine art print.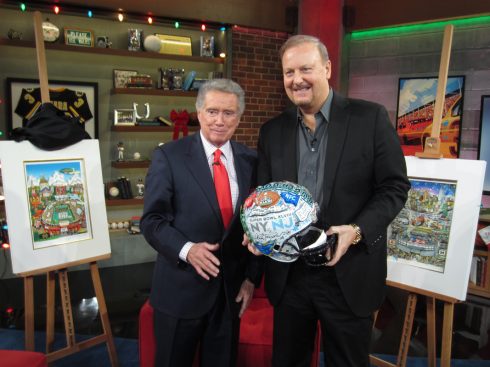 Crowd Goes Wild Talk Show
CROWD GOES WILD is an original, and completely unpredictable, new live sports entertainment talk show on FOX Sports 1, America's new sports network launching this August. Originating from New York City, iconic broadcaster Regis Philbin is joined by Georgie Thompson, Michael Kosta, Trevor Pryce, Jason Gay and Katie Nolan and the panel puts their unique spin on the biggest stories from the worlds of sports, entertainment and beyond.