Well, you may be a bit confused about what a spa lifestyle expert is doing writing about Charles Fazzino! So let me clarify and we'll get on our merry way.
Art of the Spa is all about bringing the relaxing and rejuvenating vibe of a spa to your home in style! Forget blah (taupe marble & muzak) spa – we fashion it for your taste.
There's a Fazzino in the House! How to Style a Room to Flaunt It
Now Fazzino's art – the energizing colors and joyous approach – makes me smile. Imagine displaying this art so you get to enjoy it every day – it's like a sunshine spa treat for your walls. Yes, a Fazzino is the epitome of whimsical spa vogue!
But here's the million dollar question, "How do you incorporate such a striking art object into your digs?"
Now don't get me wrong – I vehemently oppose "matching" artwork with a room, but I do believe that we buy what we love – so while you're shopping around here on Fazzino you will undoubtedly choose something that WILL BE gorgeous in your home.
Here are two of my favorite interior design approaches to tying art into your space so they synergistically elevate each other:
I. Room Color Scheme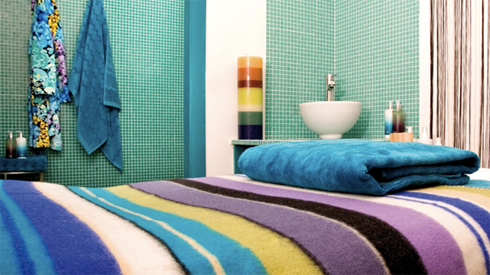 Put down that paintbrush! You don't need all white walls to fix all eyes to your Fazzino. Instead, steal a spa design secret from me, when styling a room, keep most colors in the room in similar tones or go totally monochromatic.
Contrasting colors in the walls, upholstery, window treatments generate a lot of eye "noise" and will totally steal the show from your art. While a space with less competing colors, highlights it.
For instance, check out the Missoni Spa in Edinburgh, Scotland. Notice the room color scheme and how the tile, paint and finishes are tones of aqua to put the focus on the colorful Missoni towels and candles.
Now consider this, you could totally swap the Missoni accents for aqua and white ones and voila – a gorgeous space to highlight and display Alluringly Amsterdam by Fazzino. If you look closely you'll see small touches of the same aqua the spa sports in the painting!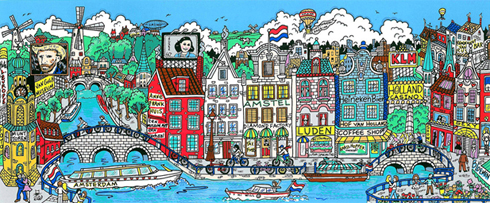 If you're feeling playful when styling your room, pick out another subtle color from the painting and add a few solid accessories like pillows or flowers. The larger your surrounding area the bigger your objects!
2. Room Theme
Another way to integrate your art when styling a room is theme. The key here is not focusing on the obvious. Take for instance, Moonstruck Over Manhattan. A bunch of skyscraper figurines would be waaayyy too matchy matchy, BUT what about the light? The moon, stars, glowing buildings are a subtle component of this piece.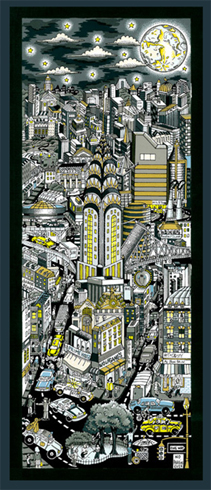 So let it shine! Why not flank Moonstruck with sparkly wall sconces or hang it near a chandelier?
From a different perspective, at the Sans Souci Spa lounge in Jamaica, I am in love with the hot air balloon fixtures.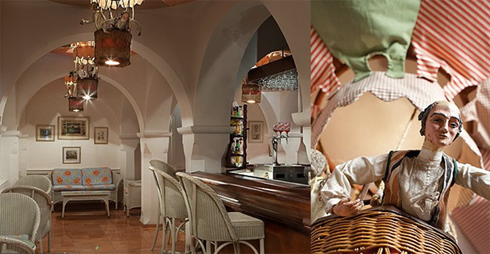 Displaying The Belmont Stakes 2005 artwork by Fazzino would not only perk up that back wall gallery in the spa's lounge, but sneakily tie in the hot air balloon fixtures.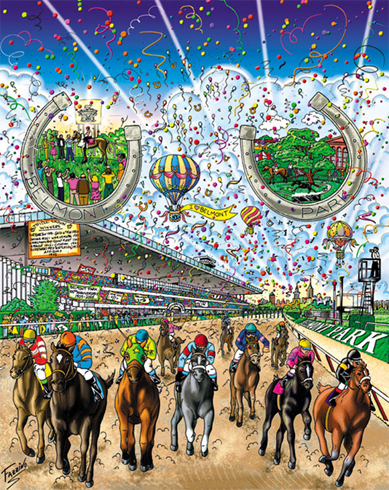 See what I'm getting at? Subtlety ties it together and gets guests & your mind relating to the objects, but also thinking. Now that's a spa thing!
So what are you waiting for? If you're looking to bring energy and charm to your abode, start browsing for pieces to style a room.
What pieces grab you? Let me know.
If you need help with where to hang or display your art, just holler!
Spa wishes,
Candy Silvasy, Founder
Art of the Spa
Candy Silvasy is the CEO of Art of the Spa a styling firm devoted to bringing the spa life home. Dubbed the "Martha" of the robe and slipper set, Candy has been on CBS, Fox News and in print. She hosts Spa Brunch: Travel & Home Talk Radio and founded Spa4Diabetes