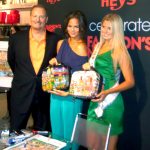 What a spectacular night! The third annual Fashion's Night Out in New York City and we were part of it all! The city was an absolute madhouse. It took some of my friends 20 minutes just to get the elevator up to the floor we were on to unveil the new Fazzino by Heys USA luggage line.
It was like a fairy tale….walking the red carpet with Tom Nebeling from Heys and 2011 Miss New York USA Amber Collins. We were driven to Macy's in a convertible, custom Heys USA Rolls Royce, walked the red carpet, chatted with the media, and were escorted up to the ninth floor where we hosted an incredible launch event. Sports Illustrated Swimsuit Model Chrissy Teigan joined us there. It was quite a party!
I'm so proud of this luggage line. It's the first time that anyone has done such a masterful job of interpreting my artwork on product. The colors are vibrant, the printing is spectacular, and they are SO LIGHT! I couldn't believe it. I was able to pick up the large rolling suitcase with my pinky! I hope that you enjoy this new version of my artwork as much as i am. We had a lot of fun unveiling it last night and i will have even more fun seeing it rolling through airports all over the world.
A big huge thanks to the team at Macy's and all of my friends at Heys USA. They have all done a tremendous job and deserve a hearty round of applause. They certainly have one coming from me!