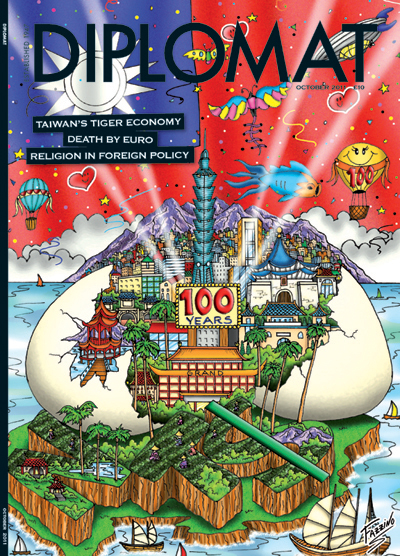 I am proud to have been asked by Diplomat Magazine in the United Kingdom to create the cover for their October, 2011 issue – a tribute to the new Taiwan!  My friend Jeannine Saba has been talking to me about doing the cover for more than a year now and we finally found an issue for which i could come up with a great design. I asked Jeannine to send me some language to describe to you what Diplomat is….here are HER words:
Diplomat provokes intelligent discussion from the heart of the diplomatic community in London. This 64 year-old magazine provides a unique insight into the minds of the most prominent world leaders and governments. Diplomat's mix of international writers, political commentary on world affairs and interviews with Heads of Mission makes it essential reading for the diplomatic community and many foreign professionals living in Europe. 
And there you have it. I was particularly excited about doing the cover for the Taiwan issue because Taiwan was actually the very first Asian country i ever visited. I was flown there by a company called Small World Importing and i spent a month for them developing a line of children's flashcards, learning games, and banks. It was an INCREDIBLE experience and seems like it was ages ago.
It's only fitting that i would create an image to celebrate Taiwan's 100th year. The egg splitting open as the central portion of the image represents Taiwan's rebirth. The rest of the images represent Taiwan's booming economy and celebrate the country's bright future. The building in the middle the Taipei 101, the second tallest building in the world.
Enjoy!
–Charles