Westchester County's leading nonprofit hunger-relief organization, Feeding Westchester, has teamed up with Charles Fazzino this February for a Valentine's Day art-focused virtual volunteer project.
Feeding Westchester's new Help From Home volunteer project allows volunteers to create and donate individual bags of assorted food items to be distributed to hungry neighbors through their partners and programs across Westchester. Volunteers who participate in Feeding Westchester's Help From Home project can download and color a copy of Fazzino's Love in Westchester-Themed Coloring Book image created especially for this project to be included in the bag for a hungry neighbor.
"I created this image to help spread a little Valentine's Day cheer along with the food that so many people need during this incredible time in Westchester," said Fazzino. "I hope folks use bright colors and have fun shading it in to bring smiles to peoples' faces."
If you are interested in participating, you can find more information on Feeding Westchester's Help From Home project at FeedingWestchester.org/HelpFromHome.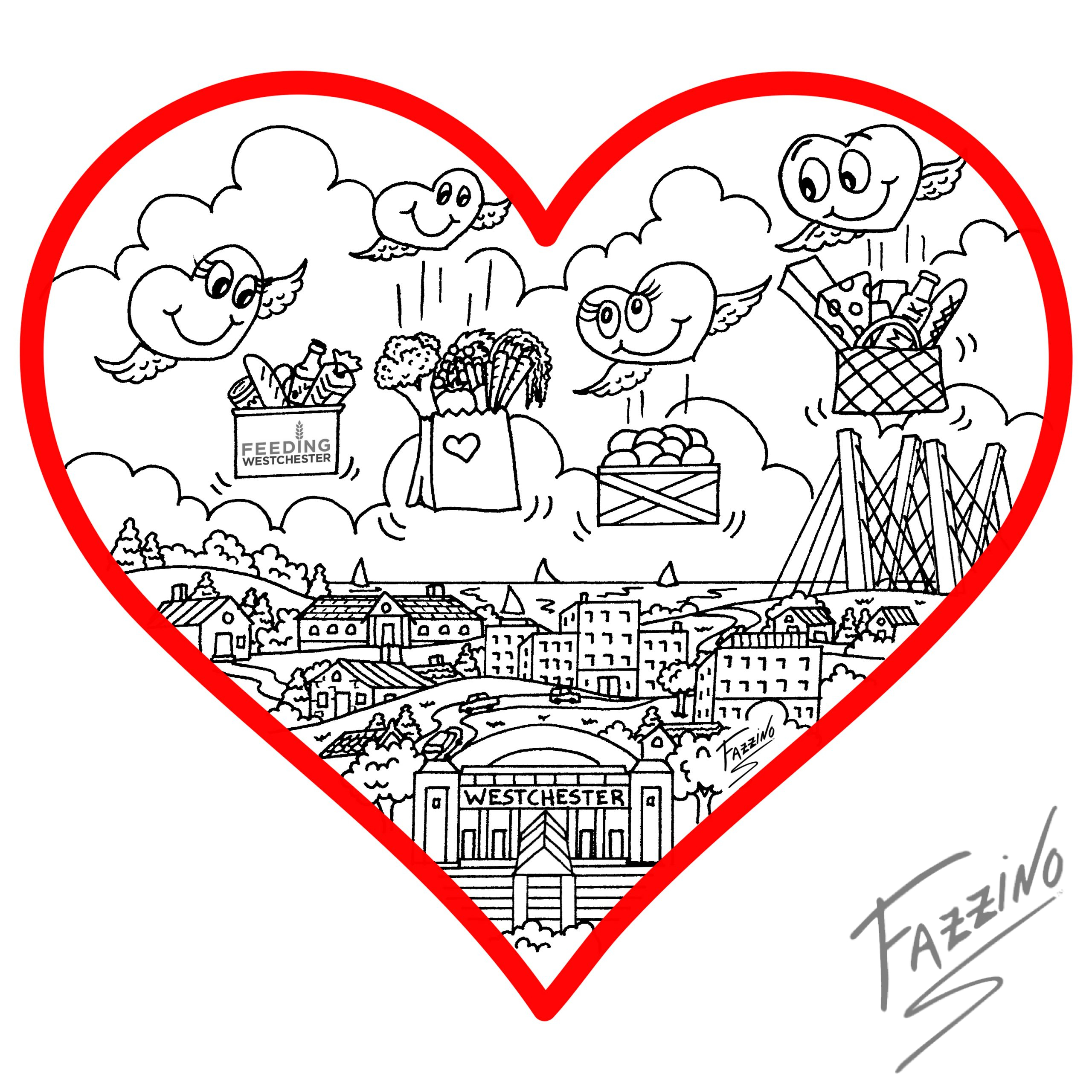 In addition to contributing to Feeding Westchester's Help From Home project, Fazzino released a signature 3D limited edition print in 2020 titled "This Soon Shall Pass" in response to the worldwide coronavirus pandemic. That 3D print is an expression of hope and compassion for all of those who have struggled and continue to struggle since the pandemic began. One-hundred percent of the net proceeds from the sale of this art edition are being used to set up a COVID-19 relief fund from which Fazzino has made distributions to a variety of charitable organizations throughout the county, including three Feeding Westchester partners.
"Feeding Westchester has been at the forefront of hunger relief in Westchester for more than 30 years," said Karen Erren, President and CEO of Feeding Westchester. "Through our powerful collaborations with community partners, we have been able to meet the longstanding needs of our community. Having distributed 22 million pounds of food, or 18.4 million meals, in the past year, Feeding Westchester knows that we can't do this alone. It takes us all. Which is why I'm so appreciative of the kindness and generosity of Westchester residents. Thank you, Charles, for caring so deeply for your community. Together we are Feeding Westchester."
International art galleries around the world are also selling Fazzino's artwork with the request to donate proceeds from these sales to support COVID-relief efforts in their local cities.
"I have seen and heard about so much suffering during the pandemic," said Charles Fazzino. "Originally, this was just a sketch I made about hope for the future and posted on social media. It resonated with so many people that we decided to make it into an art edition and sell it to raise money. Food insecurity is a chronic issue and now, more than ever, people all over the world are struggling to put food on their tables. I'm just glad that my small attempt at putting smiles on the faces of those who are struggling is also generating money that can make a real difference to so many."