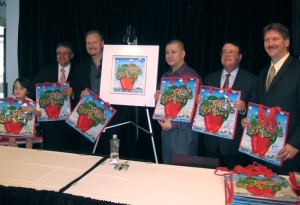 I spent a couple of days this week doing something incredibly rewarding. I, along with my friends at The Food Emporium unveiled the new recyclable grocery bag I designed for them. Not only is the bag recyclable, but they are being sold exclusively through The Food Emporium Stores in Manhattan to benefit the Muscular Dystrophy Association. I've worked with MDA for more than ten years and through that association, I was lucky enough to meet Liz Lucadamo from A&P. Liz has been a huge supporter of MDA for many many years…and besides that, she's an absolute dream to work with … and FUN too! J Last year, Liz introduced me to Mr. Hans Heer, the Senior Vice President of the Food Emporium and he proposed the idea for these bags to be sold to benefit MDA. So, this has all been in the works for many months and we were all excited to finally see the results of our efforts. I've been told the bags are "selling like hotcakes" and I was fortunate enough to be able to appear at two signings along with two of my MDA buddies, Oliver and Jason.  Jason is totally into teddy bears and Olivier is definitely a budding artist. A huge shout out to them both! I'll be working with both of them this summer again at the MDA Summer Camp, where I'll spend a day creating an original work of art with the kids. MDA Camp is one of my favorite days of the year!
In the meantime, we hope the bags sell out and we can raise lots of $$ for this incredibly worthy cause. Someday, we'll find a cure for these terrible neuromuscular diseases, but in the meantime, we can all contribute to the effort and appreciate what MDA does for these incredible young patients and their families.
If you live in New York, make sure you visit your local Food Emporium to pick up a bag. If you're outside the NYC area, you can order them by phone. Just give The Food Emporium Catering Office a call at 212.381.0885. The bags cost $7.99 plus the shipping charge.
Thank you for helping MDA find a cure!
–Charles