Super Bowl LIV Events
As soon as the holidays are over, folks tend to turn their attention to the next big thing: the SUPER BOWL! Believe it or not, it's just around the corner. The playoffs begin this weekend and soon we'll find ourselves in Miami, watching the big game on Sunday, February 2nd. We know the big question on everyone's mind is: "Where can I see the Super Bowl LIV art collection and meet Charles Fazzino during Super Bowl week?"
The art collections can be found in the
NFL Shop
at the
Super Bowl Experience
in the Miami Beach Convention Center and the
Wentworth Galleries
throughout South Florida. The NFL Shop will feature the entire Fazzino Super Bowl art collection and is open Saturday, January 25th through Saturday, February 1st. Charles Fazzino will be on hand for several hours each day beginning on Tuesday, January 28th. He will also be making personal appearances at four different
Wentworth Gallery exclusive events
in Hollywood, Boca Raton, and Ft. Lauderdale.
See Charles Fazzino at Wentworth Gallery
Wentworth Gallery will host four exclusive appearances by Charles Fazzino beginning in Boca Raton on Saturday, January 25th.  Not only will the galleries have the Fazzino Super Bowl art collection, but the entire current Fazzino library of 3D limited edition releases will be on  display at these special gallery showings.
Saturday, January 25th: Wentworth Gallery, Boca Town Center Mall, 6-9pm
Sunday, January 26th: Wentworth Gallery, Las Olas Blvd, 2-4pm
Thursday, January 30th: Wentworth Gallery, Hard Rock Hotel & Casino, 8-10pm
Friday, January 31st: Wentworth Gallery, Hard Rock Hotel & Casino, 6-9pm

Meet NFL Players
In addition, a few NFL superstars will be stopping by the NFL Shop to sign autographs with Fazzino including Miami Dolphin Devon Godchaux (Wednesday, January 29th at 7pm) and New York Jet Quincy Enunwa (Thursday, January 30th at 5pm). The store is not open to the public but a ticket to the NFL Experience Ticket will get you in!
Scenes from Super Bowl LIII in Atlanta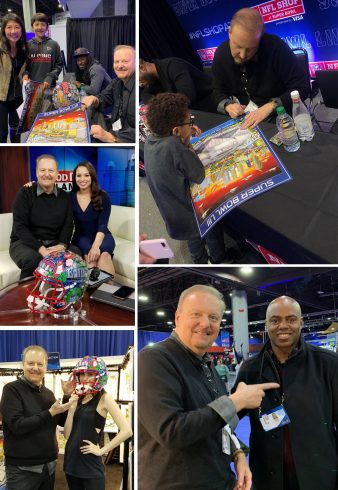 We hope you can join us at any of these events. Please contact your favorite authorized Fazzino gallery or email us at info@fazzinocollectors.com if you want more information about purchasing artwork from this one-of-a-kind, historic pop art collection! Also keep your eyes out for the Super Bowl #FazzinoTrivia Challenge on the Fazzino Pop Art's Instagram, Facebook and Twitter!