Meet our Latest Featured Fazzino Collector:
In His Her Words:
I purchased my first one in the late 80's (New York City) and met Charles then through Mrs. Troeder.  I then purchased a second one, "From Broadway with Love," a few years later.  When my son, Matthew, turned 10 years old, the Yankees one was just coming out.  What a great way to celebrate the big double digit birthday???!!!  We continued the tradition when Adam turned 10 last year and he received "The Wind Beneath Our Wings".  Melanie just turned 10 on November 14th and was so thrilled to receive "Singin and Dancing on the Great White Way."  It has been many years since I met Charles but as you can see, we really enjoy his work!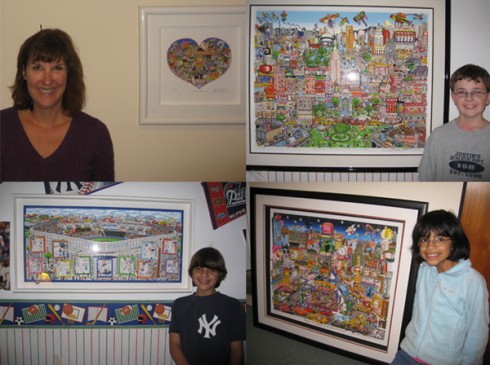 Win a Fazzino Book for Your Collection
Are you an avid Charles Fazzino art collector? Are you proud of your collection? You should be! We want to see it too.  We always hear stories about which pieces you've chosen, how you framed them, where they are displayed, and what they mean to you.
Send us some information about yourself and you could be our next FEATURED FAZZINO COLLECTOR.  Send us your name, address, phone number, and email address, along with 3 low resolution photos of you with your Fazzino collection and an explanation (250 words or fewer) about why you're such an avid fan! We'll enter you in the next drawing!
Email your low resolution jpegs to info@fazzinocollectors.com
or mail your information and photos to:
Museum Editions, Ltd.
32 Relyea Place
New Rochelle, NY
As a featured collector, your pictures and essays will be featured on Charles Fazzino's blog and you'll receive a personally dedicated copy of Charles Fazzino's latest art book Now Playing on Broadway.
Meet all of our Featured Fazzino Collectors on the Art Collectors Club and Featured Collectors Page!