So, it's that time of year again. As you can see from the dates of my posts, i took a little bit of time to breath around the holidays. I hope you all had a wonderful, restful, rejuvenating, joyful, and healthy holiday season. And now it's on to 2012. This blog is actually being posted for me while i'm in Japan on tour. The new year hit and i hit the road! I'm not big on New Years Resolutions but i do believe that the new year is a time to sit back and reflect on where you are and where you're going. So, i thought i'd share some of my plans for 2012 with you so i'll have something to look back on in December to see how far we've come.
2012 is shaping up to be a a big year for me. So, for the record, here are some of the things i have in the works and some projects i'm hoping to complete
1. Super Bowl XLVI: Indianapolis. We head to Indy this year for our 11th Super Bowl! Looking forward to it especially after the unveiling of the artwork late last year at the National Art Museum of Sport with Colts wide receiver Reggie Wayne. We'll be at the NFL Experience, the Taste of the NFL…and who knows where else.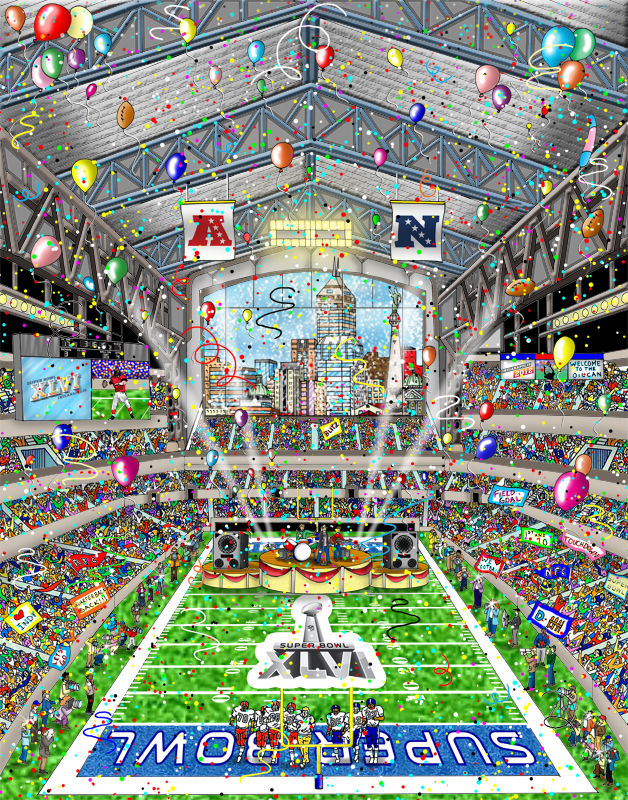 2. The Ride: Have you heard of it? Well, if you haven't yet, you will soon! It's a fantastic new, interactive, bus tour/broadway show attraction in NYC and I have some exciting plans  brewing with them for this year, so stay tuned!
3. London Olympic Games: I'm heading to London this year to commemorate my seventh Olympic Games for the United States Olympic Team and i'm very much looking forward to that!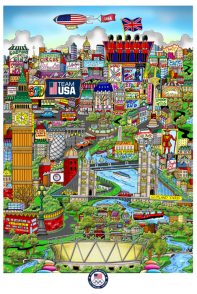 4. The Fazzino Arts Education Initiative will finally receive its formal kickoff this year with a workshop and reception at my studio in March with the Edgemont School District. Will share more when we have more news.
5. Of course, i have some wonderful new releases planned for this year, including "Moonstruck Over Manhattan," "Vampires…The Twilight of New Orleans," "Jerseylicious," "Google It…Facebook Me…Tweet It…LOL…OMG" (Can you GUESS what that ones about? :-)), "O Beautiful for Spacious Skies…America (a tribute to America's National Parks)"…and some new works on Beverly Hills, Rock and Roll, and of course, Broadway! I'm excited about all of them.
6. I'm proud to be working on the official artwork for the 40th anniversary of the Hineni Center, an incredible organization.
7. New puzzles of my work are planned for Barnes & Noble this year and new luggage is being released by Heys USA. Stay tuned for more exciting product announcements in 2012!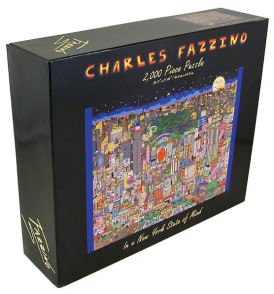 8. The Major League Baseball All-Star Game is headed to Kansas City in July…and so am I! 🙂
9.  My tour continues with trips to Japan, Germany, London…and domestic stops in New Jersey, Long Island, Florida, California, and beyond….I'm looking forward to travelling with my Heys USA Luggage 🙂
10. I'm very proud also to have been chosen the official artist for OpSail 2012. I'm honored and looking forward to painting all of the tall ships!
Ok, so there's the top 10 for 2012….i do have some other big announcements up my sleeve but will have to hold onto those for now.
I'm looking forward to seeing you all on the road and in the galleries this year. I hope you all have a wonderful, joyful, healthy, and fun 2012!!
–Charles