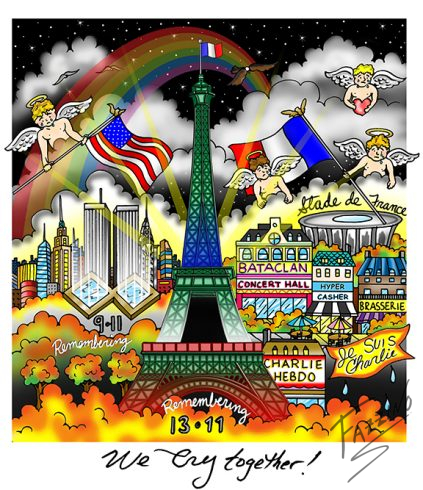 The attacks in Belgium this week were another reminder of the importance of bringing us together as people…to rise up and declare our strength and demonstrate our compassion for one another.
The Paris attacks in November of 2015 were a turning point for all of us….Charles Fazzino included. He was scheduled to visit Paris and Brussels in the weeks after the attacks and he went ahead with his plans….bringing his whimsical, happy, colorful artworks to a group of people who sorely needed some laughter and some smiles. He also brought with him an artwork….titled "We Cry Together"….an artwork that he conceptualized and completed in the days after the Paris attacks to commemorate the event and capture the emotions it evoked. The purpose was to work with his agent in France, Galerie Artima, to sell the artwork as a limited edition with all of the proceeds being donated to the victims of the Paris attacks.
Nobody could have predicted the outpouring of support people showed through the purchase of that very limited edition piece which sold out in a matter of days. The entire amount raised came to over $40,000 and Fazzino's exclusive agent and partner in the project, Galerie Artima, presented the proceeds to France's AP-HP, or Paris's hospital and public care network. The funds are being used for two specific purposes:
The immediate care of the victims directly affected by the attacks
The funding of the largest-ever research program launched to develop new techniques to care for patients with Post Traumatic Stress Disorder
The research is being undertaken by Professor Brunet, a trauma specialist at McGill University in Montreal in cooperation with Dr. Gaell Apgrall, the Head of Medical Psychotraumatology at Tenon Hospital, and Professor Bruno Millet of the Adult Psychiatric Unit of the hospital Pitié Salpêtrière. You can visit www.aphp.fr for more information about this valuable and cutting edge program.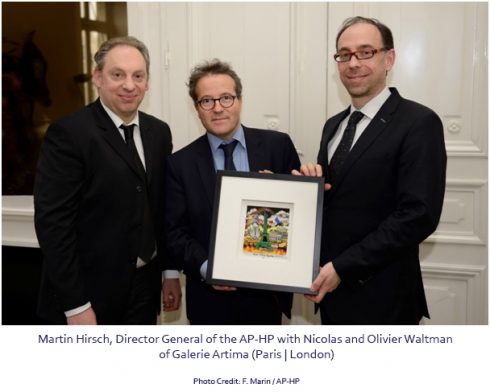 "I was horrified by the attacks in Paris…and now those in Belgium," said Charles Fazzino. "I was actually at a show in the United States in the days following the attacks and i just pulled out a napkin and started sketching the artwork that became 'We Cry Together.' I just HAD to DO something. I showed it to Olivier and Nicolas Waltman of Galerie Artima in Paris where was headed the following week and they were completely behind the effort to sell it to raise funds. They did all of the legwork and also donated all of the framing so that we could raise a significant amount of money to help the victims of the attacks and hopefully victims of these horrific events in the future."