We are proud once again to partner with premiere custom game maker, Winning Solutions, to create the world's second three-dimensional collectors version MONOPOLY Game! The first of course, was the long sold out Fazzino New York Edition released in 2013. For those of you who have been anxiously waiting….we present MONOPOLY The World Edition by Charles Fazzino.
The most iconic cities in the world sparkle with Fazzino's unique three-dimensional artwork in this limited edition masterpiece – a work of art, signed and numbered for authenticity. It's also a fully functional and playable game board!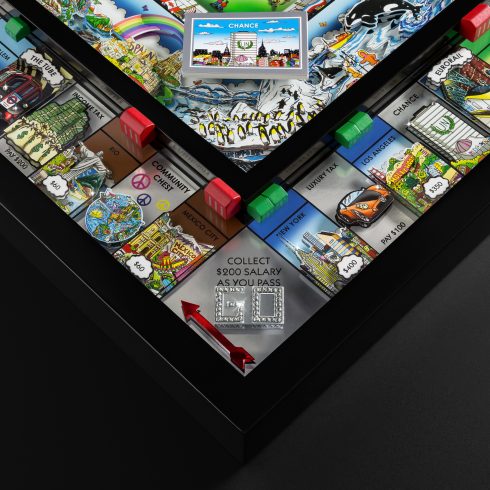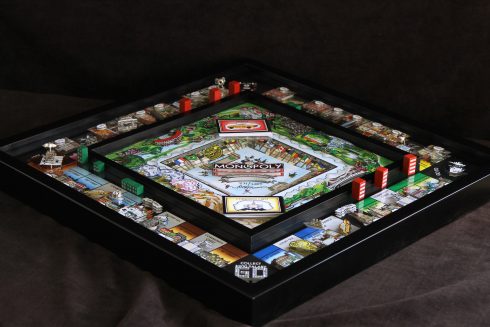 Monopoly World Board Game in 3D Features
The game board is oversized compared to the classic version and features custom 3D artwork by Charles Fazzino. The vibrant and engaging playing track takes you on a tour around the world while the well-thought out center section features the Statue of Liberty and a nod to The United Nations, both symbols of peace and humanity. The Black Edition is signed and numbered out of 2000 units while the ultra-limited Silver Edition, the most elegant and luxurious version yet, is numbered out of 250 units. Both versions are embellished with silver foil accents and shining crystals, and are encased in a beautiful 2″ deep cabinet with tempered glass top.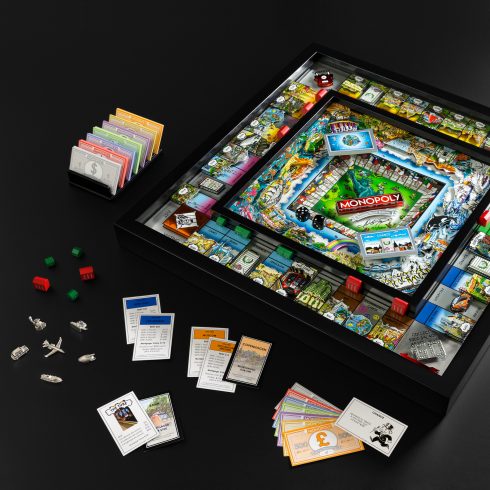 A Word From Fazzino
"I am so excited to be releasing my second collaborative MONOPOLY® game," said Fazzino from his New York Studio. "The success of the New York version reinforced for me the synergy between my style of artwork and this popular cultural icon. It's an honor to be able to successfully merge my work with a game that is beloved the world over. This version is as elegant, if not more so, than the first and I'm incredibly proud of it. Play it. Hang it. No matter what you do with it, it is sure to be a conversation starter and a beautiful addition to your home and family."
Check out Charles introducing the new Monopoly World board game…