If you are up-to-date on your Fazzino 2018 releases, you know that Charles Fazzino is on a "black and white kick" this year. Half way 'Round the City is the most recent monochromatic masterpiece! The golden accented Lady Liberty is front and center in this small, yet bold piece with her beautiful city behind her. No matter how you connect with the city that never sleeps, we can all see that Fazzino has brought the intricate details of the buildings, the boats, and beauty to life yet again. Even the clouds have smiles!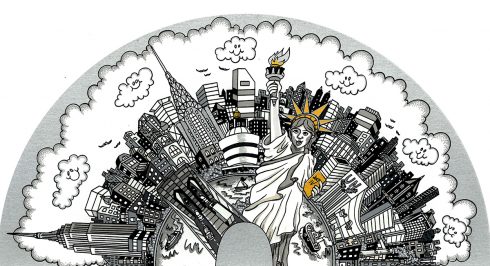 Edition Size: 100DX/100PR
Image Size: 20″ x 13.75″
"I can't say it enough, I LOVE NEW YORK CITY! Even though I am known for my bright colors, I've spent more time creating in black and white this year than ever before. It's a challenge to use a more limited color palette and still give the artwork that intricate and dimensional feel. I actually think that some of my black and white releases this year are more dynamic and have more movement to them than some of the full color. I was a little skeptical about releasing so many monochromatic pieces at once. I've been thrilled by the response. My collectors are seeing these pieces the way I intended them and that's very validating for me as an artist." – Charles Fazzino
Purchase Information
For More Information on Half Way 'Round the City! Please contact an authorized gallery, or email info@fazzinocollectors.com with your inquiries!
Make sure you Tweet, Instagram, Facebook Message, etc. to show us your Fazzino World Artwork so we can stay connected via Social Media!
#Fazzino or #HalfWayRoundtheCity
Just
inCASE

you didn't know!

…

The official Charles Fazzino Gift Shop is fully stocked with Cellphone Cases that display some of your favorite Fazzino pop art designs. These hardcover polycarbonate cases embellished with Swarovski Crystals are available for the following phone styles and sizes:
Galaxy S6
Galaxy S9
iPhone 6
iPhone 6+
iPhone 7
iPhone 7+
iPhone 8
iPhone 8+
iPhoneX