From Louis Armstrong to Billie Holiday
"Harlem and All That Jazz" is a new monochromatic release from the Master of 3D Pop Art.  Gold highlights metaphorically hearken back to the "Golden Age" of Jazz in the heart of Harlem in the 1920's and 1930's. This piece was inspired by iconic nightclubs like The Cotton Club, The Lenox Lounge, and The Apollo Theater that were the popular haunts during Harlem's heyday as one of the birthplaces of Jazz music.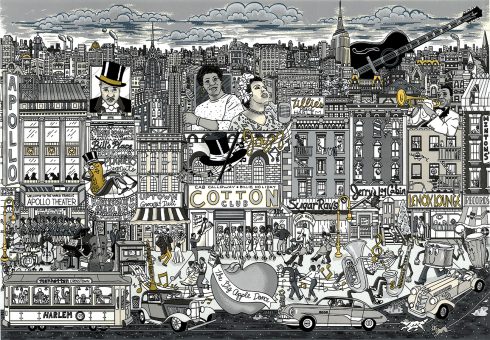 Edition Size: 100DX/100PR 20″ x 13.75″
When Fazzino hears Jazz music he thinks back to the time when the Cotton Club sold "#1 Beer" during prohibition and the locals visited the clubs to dance the "Big Apple Dance."  If you look close you might recognize the entertainers who played at the clubs! They were some of the most widely known blues and jazz performers of their time including Ethel Waters, Cab Calloway and  Duke Ellington.

"Music is a form of art, and that's why this part of history speaks to me the way it does. It was a magical time and Harlem was a magical place. I used contrasting colors of deep grays, bright silvers and metallic golds to highlight the elements that brought light into dark times. The music, the nightclubs, the performers and the vibe all create a sound that can be heard just by looking at the piece!" – Charles Fazzino 
Other Musical Works by Fazzino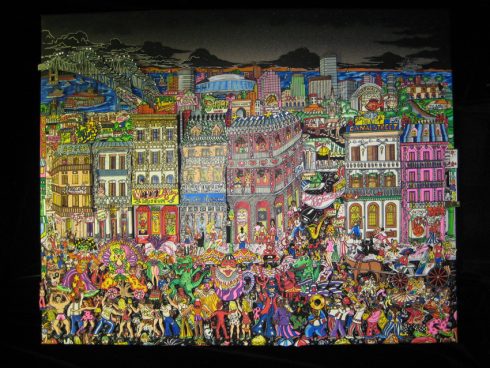 U-0037 : New Orleans & All That Jazz : 60″ x 48″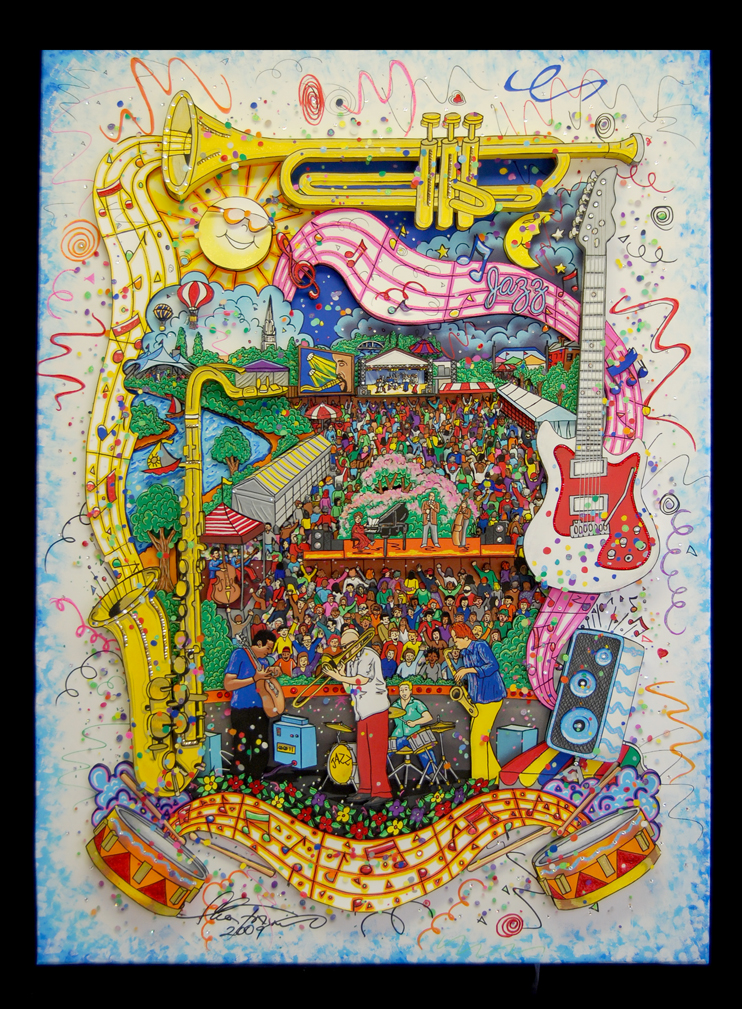 U -0072: Pori Jazz: 39.5″ x 52″ – SOLD
Purchase Information
For More Information on Harlem and All That Jazz! Please contact an authorized gallery, or email  info@fazzinocollectors.com with your inquiries!
Make sure you Tweet, Instagram, Facebook Message, etc. to show us your Fazzino Vegas Artwork so we can stay connected via Social Media!
#Fazzino or #HarlemAndAllThatJazz
Just
 

inCASE

 

you didn't know!

 

…

 

The official Charles Fazzino Gift Shop is fully stocked with Cellphone Cases that display some of your favorite Fazzino pop art designs. These hardcover polycarbonate cases embellished with Swarovski Crystals are available for the following phone styles and sizes:
Galaxy S6
Galaxy S9
iPhone 6
iPhone 6+
iPhone 7
iPhone 7+
iPhone 8
iPhone 8+
iPhoneX