Charles Fazzino takes a dramatic tone in his latest limited edition release on the city of Paris. "La Magnificence de Paris" is a balanced and beautiful composition highlighting the sights and sounds of The City of Lights. Dusk falls over a bevy of activity…revelers take to the streets for coffee and cocktails…a bike race rolls through the city streets…and colorful balloons dot the mystical-looking skyline. This 3D limited edition silkscreen is available as 200 Deluxe prints and 50 AP prints, exclusively available in France.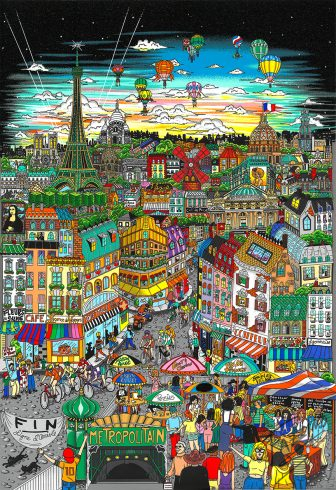 Midnight in Paris
"La Magnificence de Paris" joins "Midnight in Paris" on the list of currently available works from Fazzino's studio. "Midnight in Paris" is a die-sublimation print on aluminum and is available in four different color variations: Color, Black & White, Blue Monochrome, Green Monochrome.
Purchase Information
For more information on either "Le Magnificence de Paris" or "Midnight in Paris" releases, please contact an authorized Fazzino gallery or email us at  info@fazzinocollectors.com.