Welcome back to that wacky world of dentistry…done Looney Tunes-style! The latest in a long series of dental-themed, and in fact, professional-themed artworks, by Charles Fazzino, "Looney Dentistry" pays tribute to Bugs Bunny, the Road Runner, Tweetie Bird, and the rest of those hilarious yet industrious characters from the Warner Bros. world. "It was time to return to these wonderful characters," said Charles Fazzino. "They've always worked well with my artistic approach, and giving them a home inside a zany dental office just seemed right." The entire edition of artwork is printed on aluminum and embellished with Swarovski crystals in the typical Fazzino-3D style.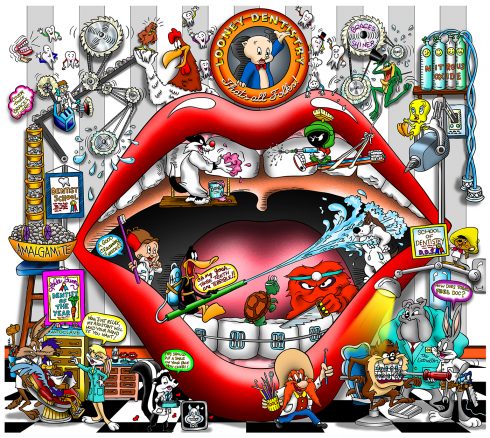 The Fazzino Dental Collection
The Fazzino collection of dental art has a very long history, beginning with "Dentasia" back in 1996. Currently also available are two different works: "A Dose of Dental Hyjinx," "Dental Circus," and "Do You Sweare to Tell the Tooth, the Whole Tooth…and Nothing but the Tooth?" The first two are limited editions on aluminum, but the third image is available in 3D on paper or on aluminum. The visual differences are striking and it all depends upon the effect you prefer….paper tends to result in a more traditional Fazzino look, while the aluminum provides a bit more dazzle and drama to the art…which seems to complement the dental world Fazzino is creating.