After spending several months developing new techniques and new images, Charles Fazzino is releasing two 3D limited edition skateboard decks. The first is a re-release from 2019 and the second is a brand new image.
"I love the skateboard decks, but since I've had so much time in my studio during the Covid pandemic, I've been tinkering with them a little bit. We tested some new materials and new techniques and I think we've made them even better than they were before – sleeker, shinier, and more resilient. I'm really very proud of them." – Charles Fazzino
"Misty Memories of Manhattan" beams with bright colors in true Fazzino fashion and exudes the high energy of New York City, while "Reflections of Manhattan", the first black and white skateboard deck from the artist, is much more subdued, but just as intricate with detail.
Skateboarding in 3D
Each deck is made of 100% Canadian Maple Wood and created in the artist's signature 3D style. Every piece is cut, glued, and assembled by hand, just like the rest of the Fazzino collection, and comes with its own hanging hardware.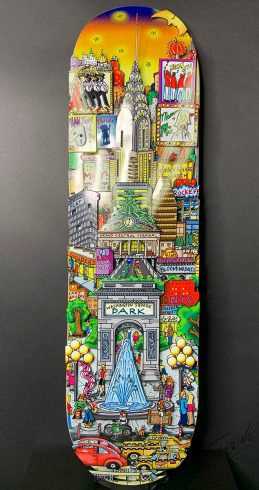 Misty Memories
Edition Size: 75
Dimensions: 8″ x 32″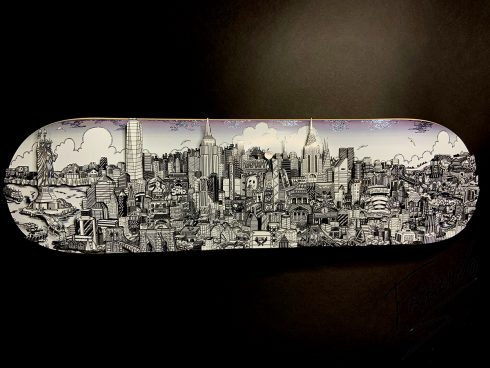 Reflections of Manhattan
Edition Size: 75
Dimensions: 8″ x 32″
Contact your favorite authorized Fazzino Gallery or email us at info@fazzinocollectors.com for purchasing information.