Charles Fazzino salutes the Patriots!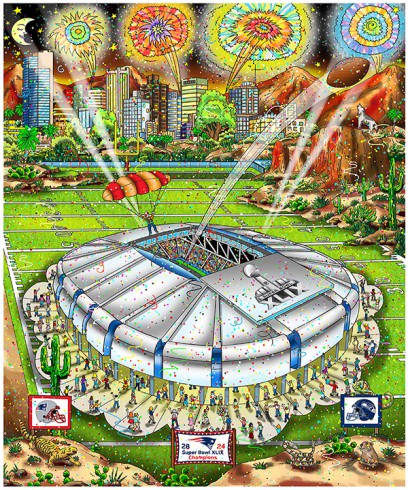 What a wild time in Phoenix! Fazzino was everywhere from the NFL Shop to Phoenix University Stadium. And along the way, he spent some time with the media, including our good friend Bruce Beck from News 4 New York. Bruce stopped by the Super Bowl Art Collection exhibit at the NFL SHOP to chat with Fazzino and his guest, NY Giants punter Steve Weatherford.
Also on the docket was a signing with NFL Kicker Jay Feeley and appearances on NBC's EVB Live, 3TVNews, Arizona Morning, and The Post Game.
"What a fantastic game," said Charles Fazzino after it was all over. "I'm thrilled for the Patriots and heart-broken for the Seahawks. It was an honor to again put the New England Patriots Championship Banner in my Super Bowl artwork. They have cemented their legacy and I'm proud to have documented their ride over the last ten years."