Wolf & Wylan unveils the Fazzino "Movember" Art and Pocket Square
It's Movember! What does that mean, exactly? Well…it means that men all over the world are growing out their mustaches to raise money and awareness for men's prostate cancer charities. And Fazzino is getting involved by partnering with new cause-minded fashion accessory brand Wolf & Wyland to design a series of Movember-themed men's pocket squares. Together, Wolf & Wylan and Charles Fazzino are getting behind the cause by bringing back the era of the sharp-dressed man! And here's your chance to join in, purchase an incredible piece of wearable art, and contribute to the cause.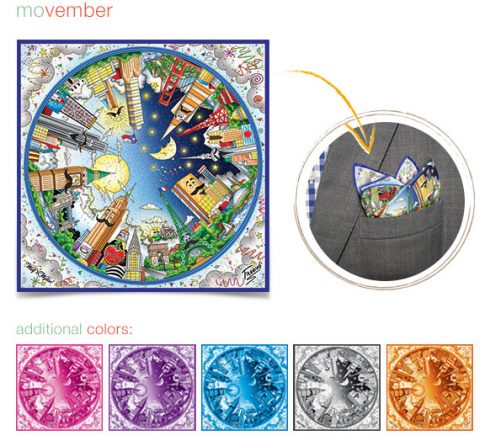 In signature style, the pocket square art depicts seven cities around the world, all with their iconic landmarks sporting a cool 'stache. The squares are 14.5″ x 14.5″, available in six different colors and made out of 100% silk. Each one is custom made, hand-rolled and comes in a nifty glass tube package.
"I am honored that Wolf & Wylan approached me to design their Movember-themed pocket square," said Charles Fazzino. "One of the most gratifying parts of being an artist is utilizing my work to make a statement about social causes….to help tell the story and raise funds for organizations such as Wolf & Wylan, that help others and bring awareness to important issues. Men's health is obviously close to my heart and so many suffer with diseases like prostate cancer. I'm proud to be able to contribute to the effort."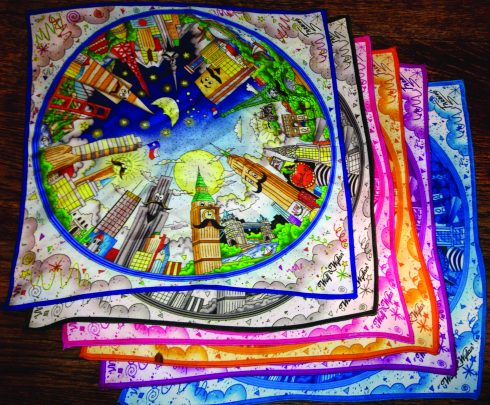 In addition to the pocket squares, the artwork is available as a series of open edition and limited edition three-dimensional fine art prints (with or without the staches). Both the pocket squares and fine artwork are available for sale here.

Donors can contribute to the cause at a variety of levels from $1 to $55 to $25,000 and in return receive one or more of the most fashionable pocket squares ever made, or a wonderfully detailed and vibrant 3D artwork by Charles Fazzino, the Master of 3D Pop Art….or Both!
On November 14th from 6:30-8:30pm, Charles Fazzino will be joined by NY Jets Punter Ryan Quigley, Miss New York 2013 Joanne Nosuchinsky, and PIX11 Sports Anchor Dryol Joyner to formally unveil the Fazzino "Movember" art and pocket square collection at a media and invitation-only artist reception at the Sports Center at Chelsea Piers in New York City. Fazzino's sports art collection is currently on exhibit at the Sports Center and attendees to the reception will be treated to a complementary poster signing by the artist and the first public viewing of the "Movember" pocket square.