Fazzino Unveils First Fine Art Wine Label on November 5th
Join Us! Admission is Free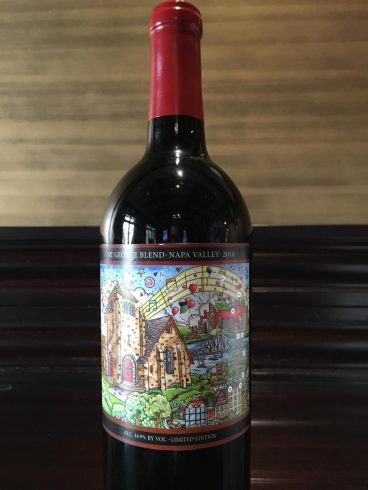 The Winery at St. George, Northern Westchester's Premiere Wine & Tapas Bar, and Entertainment Venue, has proudly partnered with internationally renowned 3D pop artist Charles Fazzino on its latest limited edition wine release. The 2014 St. George Blend from Napa Valley features label artwork designed by the famous artist. The winemakers and the artist will be together at the Winery on November 5th at 6:30pm for an unveiling of the wine and artwork, and a public open house. The event will feature tastings of the new blend, signings of bottles and art by Fazzino, a performance by The Emily Surtees Band, special one-day only pre-publication prices, free gifts, and a fundraiser for the local food pantry. The Winery at St. George is located at 1715 E. Main Street | Mohegan Lake NY 10547- (914) 455-4272 and is on the National Registry of Historical Places.
The St. George Blend is being described as a distinct Meritage that includes four of the classic Bordeaux-style grapes: Cabernet Sauvignon, Merlot, Cabernet Franc, and Petit Verdot. It's been aged in French oak for 18 months, producing a unique wine with elegant character, a balanced harmony of subtle fruit and earthy flavors, and a long finish. "This wine took us almost one year to perfect," said winemaker Tom DeChiaro. "We paid very special attention to getting the blend just right to produce a very special wine worthy of bearing such a special label." Each bottle of this very special small production run is individually numbered in a limited collector's edition.
"I am so proud to have been asked by John and Tom [owners of The Winery at St. George] to create a unique artwork to adorn their newest bottle of wine," said Charles Fazzino. "Wine and art go together: both are fine and meant to be enjoyed with friends over a long period of time.  This wine will have a legacy in art and will distinguish itself by its incredible flavor and complexity. What a wonderful combination."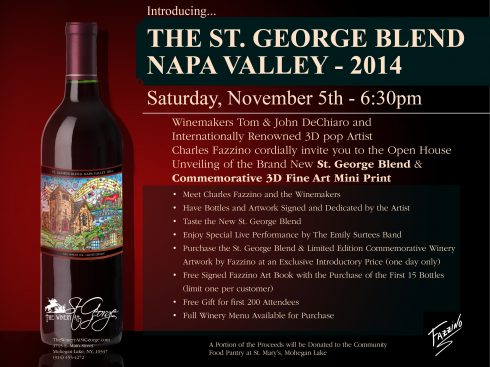 The Winery at St. George will open to the public at 6:30pm on Saturday, November 5th.  Those in attendance will be able to:
Meet Charles Fazzino and the Winemakers
Have  Bottles and Artwork Signed and Dedicated by the Artist
Taste the New St. George Blend
Enjoy a  Special Live Performance by The Emily Surtees Band
Purchase the St. George Blend & Limited Edition Commemorative Winery Artwork by Fazzino at an Exclusive Introductory Price (one day only)
Take home a free gift (first 200 attendees)
A free Fazzino signed book will come along with the purchase of the first 15 bottles of St. George Blend (limit one per person).  The Winery's full menu will be available for purchase and a portion of the proceeds will be donated to The Community Food Pantry at St. Mary's Mohegan Lake. "We are indebted to this community for embracing our winery concept in Northern Westchester and we're eager to pay it forward," said DeChiaro.  "The Pantry is right down the street and a good neighbor. We are proud to involve them in this event."
Check out the radio interview with Charles about the artwork:
Email us at Info@FazzinoCollectors.com if you would like more information about this very special Fazzino event!
If you're in the United States and want to purchase this incredible wine via mail order, you can contact The Winery at St. George and order online.
If you're outside the United States and want to purchase this incredible wine via mail order, please email John DeChiaro at The Winery at St. George.
If you have any questions please share in the comments below or ask us what you think on Facebook or Twitter!