With the NFL season well underway, it's already time to look at ahead to what what will become one of the biggest milestones in American sports history – Super bowl 50 which takes place on Sunday, February 7th, 2016 in San Francisco! The National Football League is already celebrating the Golden Anniversary of the most-watched sporting event of the year, and Charles Fazzino is proud to announce the release of his Super Bowl 50 Art Collection. Fazzino, who has commemorated the last fifteen Super Bowls for the NFL has something extra special planned for this one. "It's the Golden Anniversary for Super Bowl. It's historic," said Fazzino. "So, I wanted the artwork to reflect that. We've incorporated lots of Swarovski crystals into the edition, as well as gold accents and embellishments. The footballs on the premiere edition will even be embellished with 24-karat gold leaf. We wanted this edition to be very, very special. I'm looking forward to showing it in San Francisco."
The Super Bowl 50 Collection will consist of both open edition posters and limited edition 3D deluxe and premiere prints, hand-painted original football helmets, and open edition 3D mini prints, and will be featured prominently inside the NFL Shop at the NFL Experience. The NFL Experience located at the Moscone Center will be the focal point for Super Bowl City, San Francisco's hub for Super Bowl 50 activities. It opens on Saturday, January 30th and runs through Super Bowl Sunday, February 7th. Charles Fazzino will be at The NFL Experience to meet and greet fans for several hours each day beginning on Wednesday, February 3rd. In addition a few NFL superstars will be stopping by to sign autographs with Fazzino….stay tuned for a signing schedule.
You can also visit your favorite authorized Fazzino Gallery or email us at info@fazzinocollectors.com about purchasing information for the Charles Fazzino Super Bowl 50 Art Collection.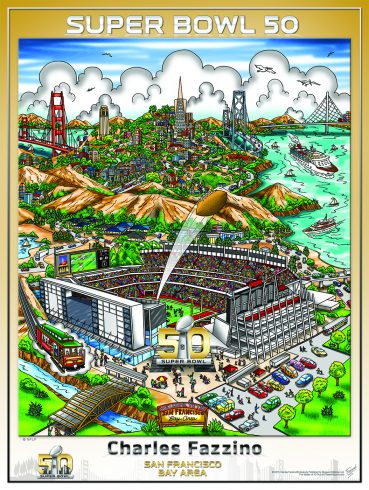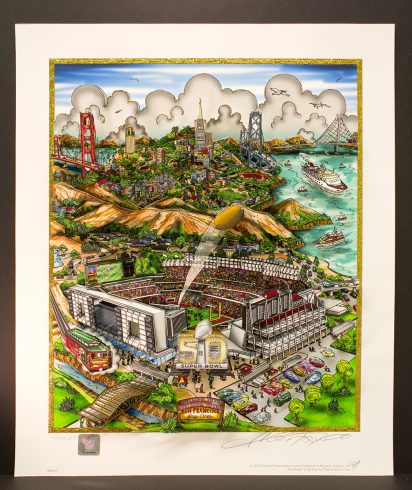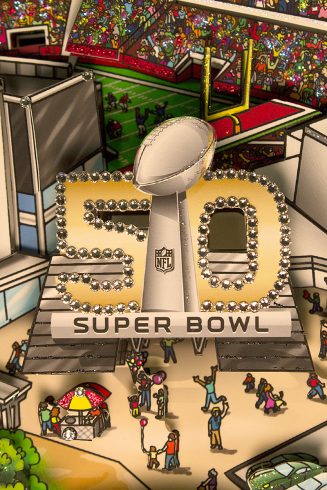 Super Bowl 2016 Event Information:
WHAT:  THE CHARLES FAZZINO SUPER BOWL 50 ART COLLECTION AT THE NFL SHOP AT THE NFL EXPERIENCE AT SUPER BOWL CITY
Dates: Saturday, January 30 – Sunday, February 7
Time: Check Website for Store Hours. The Store, although part of the NFL Experience, is open to the public and you DO NOT NEED an NFL Experience Ticket to Enter!
Location: The Moscone Center, San Francisco
Collection: Limited Editions, Fine Art Posters, Mini Prints, Hand-Painted Helmets