As the NFL counts down to Super Bowl LI, Charles Fazzino once again celebrates the annual milestone as only he can. Super Bowl LI will take place on Sunday, February 5th, 2017 in Houston, Texas! Commemorating his 18th Super Bowl, Fazzino is looking forward to exhibiting his entire football collection in a few locations around the city. "We'll be at two NFL Shop locations at the NFL Experience as always," said Fazzino. "But we're also looking forward to working with our long-time partner in Houston, Off the Wall Gallery." Off the Wall will exhibited the entire Charles Fazzino Super Bowl Art Collection at the Off The Wall Boutique, located at the Galleria I in the Luxury Court on the First Floor.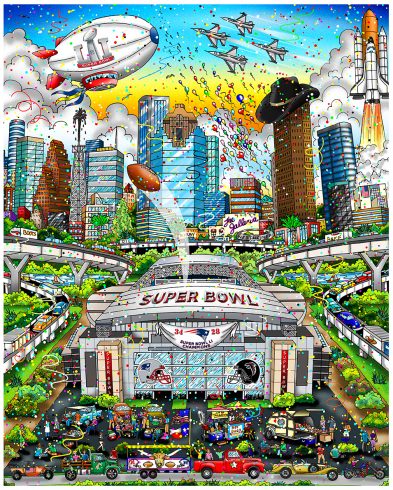 The Super Bowl LI Collection will consist of both open edition posters and limited edition 3D deluxe and premiere prints, hand-painted original football helmets, and open edition 3D mini prints, and will be featured prominently inside the NFL Shop at the NFL Experience, pro football's interactive theme park. The NFL Experience located at the George R Brown Convention Center will be the focal point for Super Bowl Live, Houston's hub for Super Bowl LI activities and events. It opens on Saturday, January 28th and runs through Super Bowl Sunday, February 7th. Charles Fazzino will be at The NFL Experience to meet and greet fans for several hours each day beginning on Tuesday, January 31st. In addition a few NFL superstars will be stopping by to sign autographs with Fazzino….stay tuned for a signing schedule.
You can also visit your favorite authorized Fazzino Gallery or email us at info@fazzinocollectors.com about purchasing information for the Charles Fazzino Super Bowl LI Art Collection.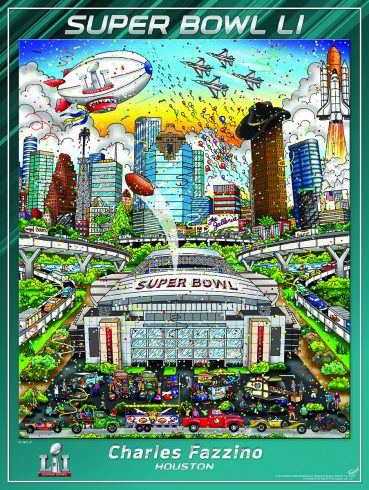 Super Bowl 2017 Event Information:
THE CHARLES FAZZINO SUPER BOWL LI ART COLLECTION AT THE NFL SHOP AT THE NFL EXPERIENCE AT SUPER BOWL LIVE
Dates: Saturday, January 28 – Sunday, February 5
Time: Check Website for Store Hours. The Store, although part of the NFL Experience, is open to the public and you DO NOT NEED an NFL Experience Ticket to Enter!
Location: George Brown Convention Center, Houston, TX
Collection: Limited Editions, Fine Art Posters, Mini Prints, Hand-Painted Helmets