Last weekend, i appeared for the second time at a series of events with pop artist Michael Godard. We took our joint tour on the road to R Roberts Gallery in Jacksonville, Florida. What a fantastic show! We had a great time and made some wonderful new friends. While I was there, i also participated in a couple of childrens' events, creating 3-D pop art with groups of kids. One of the pieces we made is being installed at the Wolfson Children's Hospital and the second will become part of the University of North Florida's Permanent Library Collection. On Saturday morning, Jennifer Riedeburg (owner of RRoberts Gallery) and I presented the piece that we created to Julie Handley at the Wolfson Children's Hospital. Julie gave us a wonderful tour of the facility and i was amazed at the care the children receive. It's an amazing place.
I've posted a few videos from the trip on my website. You can see one of the children's events videos and the television interview Michael and I did together on my website Media Room.
Next up: Japan…leaving today….
Enjoy!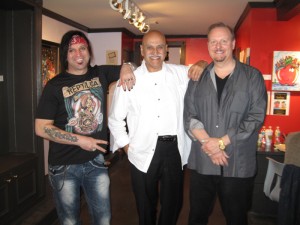 Above –  Michael Godard, Nim Vaswani from The Road Show Company, and Charles Fazzino
Below – Julie Handley, Jennifer Riedeberg, Charles Fazzino, and the Grandkids!
Bottom – Charles works with the kids at R Roberts Gallery