Meet Ryan Reyes
When we first met 14-year-old Ryan Reyes he was being treated for Non-Hodgkins Lymphoma at the Maria Fareri Children's Medical Center. Not only was he successfully treated, but he discovered within himself a talent that might otherwise have gone unrecognized. Art Therapist Gabrielle Bellettieri, who runs an art therapy program at the hospital, encourages the kids to explore the arts as a method to dealing with some of the emotional issues they face during treatment. At the very least, the art program helps to distract the patients…take them out of their own heads for awhile…gives them something fun to do. In Ryan's case, it might have helped discover the next Pablo Picasso!
Ryan, who had never considered pursuing the arts before, entered his tissue box design into the second annual White Cloud Children's Miracle Network Hospitals' Tissue Box Design Contest….and he won! Aside from a $15,000 grand prize donation to Marira Fareri Children's Hospital, Ryan discovered a new passion within himself.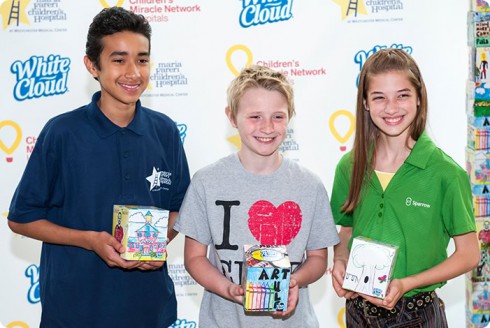 The Power of Art
"Art was just another school activity to Ryan when he first arrived at Maria Fareri Children's Hospital at Westchester Medical Center," recalled Bellettieri. "Soon after we started working together Ryan's artistic talents became apparent and his enthusiasm for art increased. I counseled Ryan on a number of projects and being confident in his work, I encouraged him to enter the White Cloud Tissue Box Design Contest."
"Since then, Ryan's interest in art has blossomed and his talents have progressed tremendously. He will soon visit world-renowned art museums in the U.S., and abroad, and was recently accepted to a prestigious high school for the arts."
His accomplishments were recently featured on a News 12 Westchester broadcast. WAY TO GO RYAN!