It's Our Third Edition of TRAVEL WITH FAZZINO: BOSTON
In our last "Travel with Fazzino" blog, we took you to Moscow.  Now, we pack up and come back to the US to visit one of Fazzino's favorite cities to paint: Boston. Being a bit of a foodie, Fazzino loves visiting the city for its fabulous hotels and wonderful seafood restaurants. "There's nothing like a Boston lobster!"

Rich Boston History Inspires Fazzino's Artwork
Charles Fazzino's first limited edition release on Boston was titled "Just Boston" and it was created in 1989. Since then, he's created five separate limited edition tributes to the city, and three editions celebrating it's rich sports history. Historically Boston (pictured below) is the largest of the collection, with an image size of 28″ x 17.5″. At the time, it was a tribute to the historical significance of the city of Boston. Today, it actually is a somewhat historical look at the city's footprint because it was painted before "The Big Dig." Since this was done, the whole area around Rowes Wharf and along the water has changed dramatically. No matter what, from Bunker Hill to Paul Revere's House, Boston Common, and Faneuil Hall, Boston is rich with historical tradition making it a perfect subject for Charles Fazzino's signature three-dimensional treatment.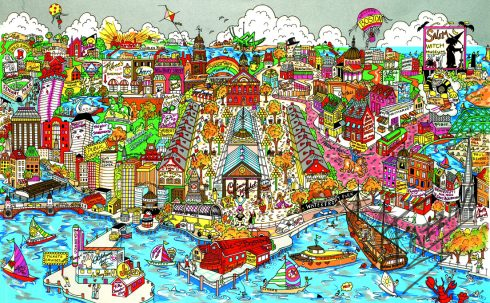 "Balloons Over Boston" was the last limited edition release Fazzino has done on the city of Boston. He has, however, painted some original works such as "The Boston Harbor" below. The original paintings have a different feel than the limited edition serigraphs. They are more painterly and done on canvas rather than on paper.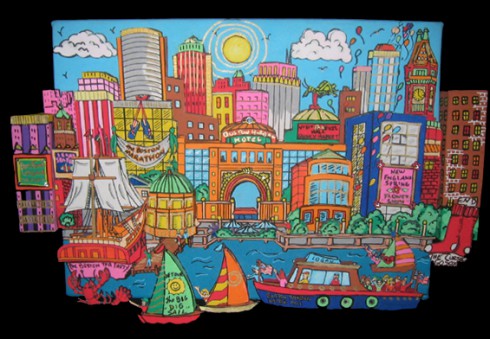 Fazzino's Boston Themed Sports Artwork
One of the biggest attractions the city of Boston has to offer is its sports teams, specifically the Boston Red Sox and the New England Patriots. Fazzino has painted them each several times, celebrating their World Championships, Super Bowl victories, and historical moments. The original work on which the 2009 release "Fenway Park: The Pride of Boston" was based is currently housed in the permanent collection of the National Baseball Hall of Fame and Museum in Cooperstown, New York. "Fenway Park: The Pride of Boston" has also been altered throughout the years. Now it celebrates both the 2004, 2007, and the 2013 Red Sox World Series Wins.

Fazzino has also memorialized two Patriot Super Bowl victories in Super Bowl XXXVIII and Super Bowl XXIX for The National Football League. Several of the Boston's famous hometown heroes also collect Fazzino's work including Tom Brady and Roger Clemens.
When was Your Last Trip to Beantown? Share Your Thoughts and Photos!
We'd love to hear from you about your experiences in this great city. Share some pictures of yourself near any of the landmarks Fazzino has rendered on our Facebook Page. And be sure to stop by for our next edition of Travel with Fazzino!