It's Our Second Edition of TRAVEL WITH FAZZINO: MOSCOW
In our last "Travel with Fazzino" blog, we took you on a tour of New York City. Now, we grab our luggage and move half way around the world to Moscow…drawn by Fazzino for the first time in 2014.

"With the Olympic Games happening in Russia and the growing population of Russian tourists all over the world, I thought it was time to take on this great city," Said Fazzino at the time. "For me, the real focal point of this piece is actually the sky. I've never created a sky quite like it and I wanted that to overpower the piece, conveying just how both exotic and important I think Moscow is in relation to the rest of the world."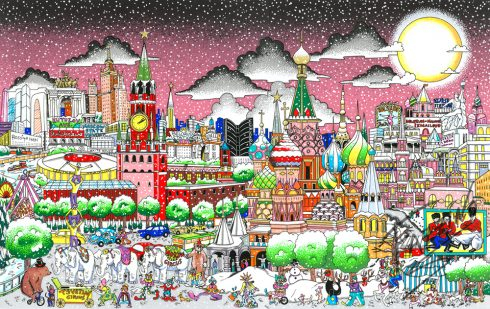 With color and composition, Fazzino successfully captures the magic and the mystery that has long surrounded the Russian capital. At the same time, he conjures up its whimsical and often fantastic nature. As the northern-most megacity on Earth, Moscow is home to more than 11,000,000 residents and its financial and cultural influence throughout the globe is undeniable.  It's definitely a city worthy of a FAZZINO.
Have You Ever Been to Moscow? Share Your Thoughts and Photos!
We'd love to hear from you about your experiences in this great city. Share some pictures of yourself near any of the landmarks Fazzino has rendered on our Facebook Page. And be sure to stop by for our next edition of Travel with Fazzino!