It's Our Fourth Edition of TRAVEL WITH FAZZINO: PARIS
In our last "Travel with Fazzino" blog, we took you to Boston.  Now, we pack our bags and head to Europe and a place that Charles will be visiting in the very near future: Paris, France. "I have been traveling to Paris and to France in general, for decades to do shows at the galleries showing my work there," Said Fazzino. "It's always a real treat!"

Fazzino's Love Affair with the City of Love
Charles Fazzino's first limited edition release on Pariswas titled "City of Love" and it was created in 1993. A Beautiful blue sky, white fluffy clouds, rainbows, and balloons all set the stage for a lovers paradise on the Champs d'elysee. The Mona Lisa looks down upon the couples enjoying their leisurely drinks in the outdoor cafe, and the Eiffel Tower is highlighted majestically in the background. Since then, Fazzino has created more than a dozen limited editions and original paintings capturing the elegance and buzz that have always surrounded this city.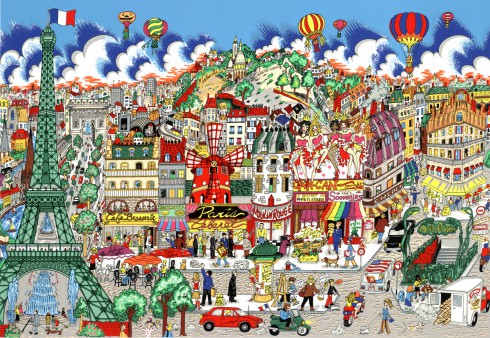 La Joie de Vie, Paris,  2002
New France Artwork From Charles Fazzino
Charles Fazzino  is actually on his way to France this weekend to debut two new limited edition releases: "A Taste of French Gastronomie" and "Paris, Love is in the Air." On Friday, he will be at Galerie L'encadreur in Lille and on Sunday, he will appear at Galerie Nuances et Lumiere in Lyon." The new works on France will highlighted along with the rest of the Fazzino 3D Pop Art Collection.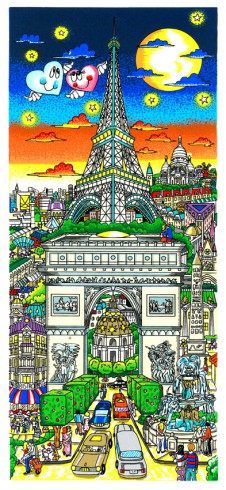 Galerie Arnaud Rogez
56 rue Esquermoise
59000 Lille
Time: 6pm – 10pm
Tel : +33.3.20.12.25.25
lille@lencadreur.fr
– See more at: https://www.fazzino.com/art-blog/category/events-appearances/#sthash.fsNz8ADZ.dp
When was Your Last Trip to The City of Love? Share Your Thoughts and Photos!
We'd love to hear from you about your experiences in this great city. Share some pictures of yourself near any of the landmarks Fazzino has rendered on our Facebook Page. And be sure to stop by for our next edition of Travel with Fazzino!