IT'S THE HOLIDAY SEASON…
That means it's time again to test your Holiday Trivia knowledge to win the most sought after merchandise during the TWELVE DAYS OF FAZZINO! If you have never been a part of this Fazzino-Themed Gift-Giving celebration, you are in for a real treat.
From December 1st through the 12th, we will offer a different Fazzino-inspired gift of the day, perfect for the art lover on your list. While supplies last, the "Featured Gift of the Day" will be available for purchase from the Fazzino gift shop for 20% off the retail price if ordered by Midnight on the day it's featured. Plus, on each day, one lucky person will win one of the Featured Gifts of the Day by answering a holiday-inspired trivia question. In order to be in the running to win, you need to correctly answer the question for that day and post your answer in the comments below or on any of Fazzino's social profiles (Facebook, Twitter or Instagram). A winner will be chosen at random from those who've answered the question correctly. If you are that lucky winner, we will contact you and your FREE Fazzino Prize will be shipped just in time for the gift-giving season!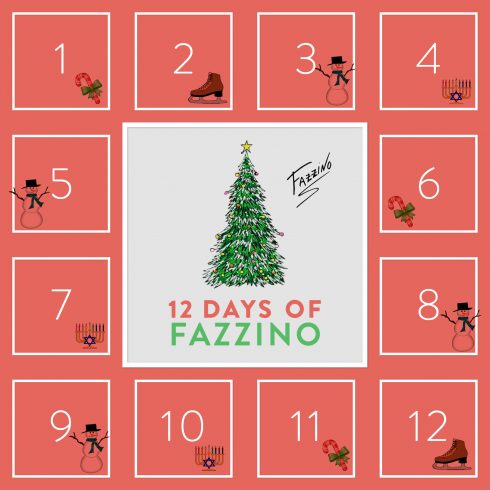 Holiday Hint*
Look out for this 12 day calendar card on any of Fazzino's social profiles. Attached will be a Trivia question that can be answered in the comments below! Everyday we will reveal the Featured Gift of the Day that's up for grabs!
Everyone is a Winner this Holiday Season
That's right! Remember that, just in case you're not the selected winner of that day's trivia challenge, Fazzino is offering 20% off that product for the day…. therefore everyone is a winner!
Shopping for the Holiday Season? – If you are looking for the perfect gift, make sure you head to the Official Charles Fazzino Gift Shop for all of your holiday shopping! If you're looking for presents for your Co-workers, friends, or family members, the gift shop is the best place to go!
Do you have any questions about the 12 days of Fazzino? Email us at info@fazzinocollectors.com or ask away on Facebook or Twitter!