In November, New York gourmet coffee and chocolate 2|Beans unveiled a new artist series of Chocolate boxes and bars featuring the artwork of Charles Fazzino. The collection includes a limited edition collectors gift box featuring Fazzino's artwork inside and out, and a very special selection of Fazzino-stenciled pralines/bon bons, all produced by New York based gourmet chocolatier Chocolate Moderne.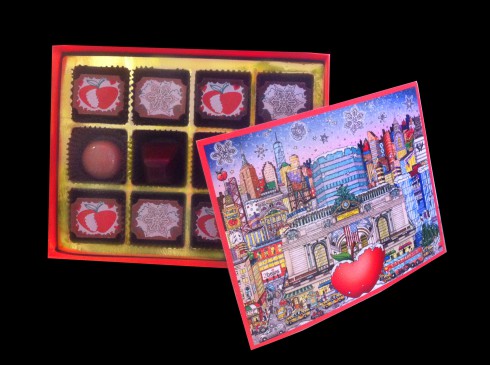 The 12 piece box of pralines sells for $55 and the 24-piece box sells for $90. Each comes with a removable Fazzino fine art print (suitable for framing) inside the box. There is also a series of 4 ounce photographic chocolate bars featuring some of Fazzino's most popular 3D art releases printed right onto the white chocolate. Each bar sells for $15.99.
The Perfect Gift for Valentines Day
NOW you can order your Fazzino chocolates online and have them shipped right to your door….and in time for Valentine's Day! Place your orders now on the 2|Beans site and give your sweet some Fazzino sweets!
"I love chocolate," said Charles Fazzino. "Chocolate is an artform all its own. It can be delicate and subtle or intense in flavor. There are so many varieties and like a fine wine, a good piece of chocolate is a wonderfully decadent treat. I am thrilled to see my artwork used to enhance the chocolate experience."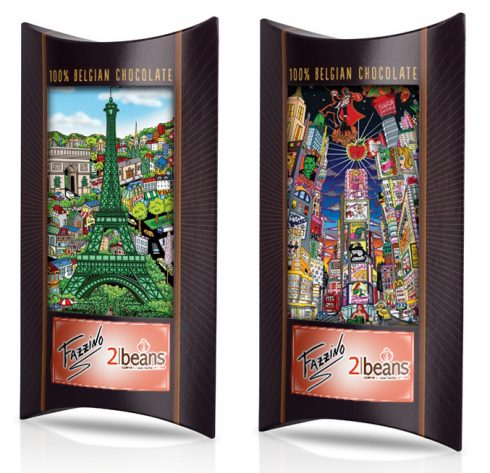 2|Beans NYC Location
2|Beans is located at 100 Park Avenue in New York City, right outside of Grand Central Station. Make sure you stop in if you're in the neighborhood…and tell 'em Charles Fazzino sent you. Enjoy!