Charles Fazzino is joining 4 other Westchester County artists of Italian descent by contributing works to the "Art and Perception" art exhibit. The exhibit runs September 13 – November 14. You can meet the artists and take in the artwork during the opening night reception on Saturday, September 13th from 2pm – 5pm. Light refreshments and live music will complement the event. Advance Registration is required.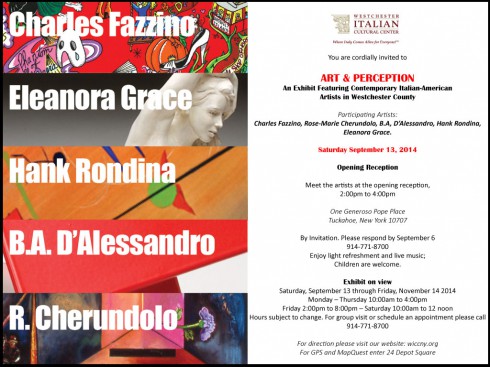 A Special Event to Learn About the Artists
On Thursday, October 2nd at 7pm, the artists will also take part in a roundtable symposium. Attendees will have the opportunity to get to know the artists in a more structured environment as they share their lifetime experiences and the meaning of their art. There will be a question and answer session and light refreshments will conclude the evening. Advance registration is required.
The Fazzino works in the exhibition will include a new 3D limited edition titled "Il Sole Brilla Su Venezia" and a diorama sculpture made from several 3D original canvases assembled together into "Venice." Works on New York and some whimsical thematic works will also be shown.
Contact the Westchester Italian Cultural Center for registration and information at wiccny.org or (914) 771-8700.