FAMOUS 3-D POP ARTIST CHARLES FAZZINO SELECTED AS THE OFFICIAL ARTIST FOR

"OpSail 2012"
OpSail & U.S. Navy Commemorate The Bicentennial Of The Writing Of The Star-Spangled Banner & The War of 1812 — Tall ships from Around The World Join U.S. & International Navies In Six American Port Festivals During Spring & Summer 2012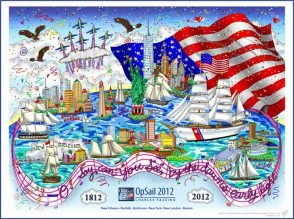 3-D Pop Artist Charles Fazzino's Official Artwork Commemorates the Bicentennial and Depicts the Six U. S. Ports — Including NYC — Participating in OpSail 2012
NEW YORK, NY — Famous3-D Pop Artist Charles Fazzino has created the Official Commemorative artwork, including a Limited-edition Poster and Commemorative Tee-shirt for OpSail 2012 — a partnership between Operation Sail Inc. and the U.S. Navy. OpSail 2012 is commemorating the Bicentennial of the War of 1812 and the writing of The Star-Spangled Banner with a parade of tall ships and series of week-long events at six American ports in Spring/Summer 2012.
The OpSail 2012 events include a parade of these international tall ships and military ships into six historic ports — New Orleans, Norfolk, Baltimore, Boston, New YorkCity and New London.  The events extend from April 17 thru July 8. U.S Navy ships, international warships, and the famous Blue Angels Flight Demonstration Squadron will also participate in OpSail 2012.
Charles Fazzino's Art Captures the Spirit of OpSail 2012
"I am honored to have been selected to be the Official Artist for OpSail 2012," Fazzino said. "It is a thrill to participate with OpSail 2012 in commemorating the Bicentennial of the War of 1812 and the penning of our beloved Star Spangled Banner. Every port city is represented in this official poster, so I hope that OpSail enthusiasts and collectors alike will enjoy this keepsake artwork."
Jose Fuentes, chairman of Operation Sail Inc., said "We are thrilled with the selection of Charles Fazzino as the official artist for Opsail 2012. His extraordinarily colorful and attractive artwork creates a spectacular theme and captures the unique spirit of OpSail 2012."
"Bringing the tall ships of the world back toU.S.waters for the commemoration of this glorious American milestone excites the imagination," Fuentes added. "Throughout 2012, millions of people will watch these graceful and majestic sailing ships as they parade together, and celebrate the brotherhood of the sea and our freedoms."
States, municipalities and civic organizations have formed host committees to organize the week-long events in each port in concert with OpSail executives and Navy officials. All of the ships will be open for public visiting free of charge, and citizens will have the opportunity of interacting with talented young sailors from around the world.
For additional information about OpSail 2012, please visit: www.opsail.org and/or view the following video: http://www.youtube.com/watch?v=pFRik4B9ya0&feature=mfu_in_order&list=UL
Key 2012 dates for the OpSail / Navy ship visits:
New Orleans,Louisiana, April 17-23
San Juan,Puerto Rico(Tall Ships only), May 9-14
New York,New   York, May 23-30 (Fleet Week)
Norfolk,Virginia, June 2-12 (Harborfest)
Baltimore/Annapolis,Maryland, June 13-19
Boston,Massachusetts, June 30-July 6
New London,Connecticut(Tall Ships only), July 6-9
 About Charles Fazzino
Charles Fazzino — one of the most popular artists in the world — is an officially licensed artist of Major League Baseball and the 2012 MLB All-Star Game, the USOC and 2012 US Olympic Team, and the National Football League and Super Bowl XLVII.
Charles Fazzino has also created official artwork for high profile events, including: Fort Lauderdale Centennial, NASCAR Sprint Cup series, NHL All-Star Game, Olympic Games, Belmont Stakes, Daytona 500, Indy 500, Andy Roddick Charity Gala, U.S. Tennis Foundation, CMA Awards, Grammy Awards, NBC's "Today" Summer Concert Series, Rosie O'Donnell's For All Kids Foundation and the President William J. Clinton Presidential Foundation, among many others.
Charles Fazzino's artwork, including his Commemorative Super Bowl XVI art collection, can be viewed at: www.fazzino.com.
About Operation Sail, Inc.
Operation Sail, Inc. is a non-profit organization established in 1961 with the endorsement of President John F. Kennedy. Backed by a Joint Congressional Resolution, its mission is to advance sail training and promote goodwill among nations. As the Congressionally chartered non-profit producer of tall ship events, OpSail has staged spectacles for five previous American milestone events such as the 1964 World's Fair, the 1976 bicentennial of American independence, the 1986 State of Liberty centennial, the 1992 Columbus Quincentennial, and the Millennium in 2000.
About The Erlick Group
The Erlick Group is a leading NYC-based entertainment sponsorship agency founded in 1992 by Jim Erlick. The Charles Fazzino Official Art Program for OpSail 2012 is created in cooperation with The Erlick Group. For additional information about the Erlick Group, please call: 212-418-7372 or visit: www.erlickgroup.com.
Media Contacts:
For Charles Fazzino:
Cathy Del Priore, 718-987-9738
Weitz Communications
For OpSail 2012:
William G. Armstrong Jr., 203-904-8115
Director of Communications, Operation Sail Inc.
# # #