I'm so excited for the release of my latest mural! I've decided to call it "#ManhattanMural….The Island of Hopes and Dreams." The release of a new piece of artwork for me is always like welcoming a new child into the world. When i release a new mural, it's like having TWINS. The mural-sized images take about two years to come to fruition…from the first day i take pencil to paper to the day we ship out the first completed 3D New York City pop artwork. It's an incredibly time-consuming and labor-intensive process. When fully framed, this mural will measure almost 7′ long.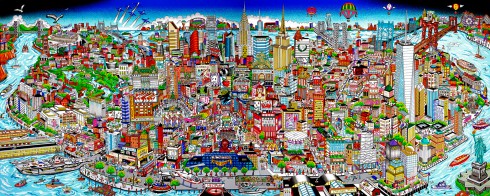 I think this is my most detailed mural yet. Historically, New York City has been a beacon of hope for people from all over the world. They flock to NYC in search of a promising future, carrying sometimes nothing more than their hopes and dreams. And New York delivers….endless possibilities, countless opportunities, and a dynamic and diverse lifestyle. As they say "if you can make it here, you can make it anywhere." I hope I've adequately captured the best of greatest city in the world.
To Purchase Your Manhattan Mural
Get in touch with your favorite Fazzino Authorized Dealer or drop us an email at info@fazzinocollectors.com if you want more information. The edition will be very limited with only 150 of these being produced. I hope you enjoy it!