Unveiling of Fazzino's Official 75th Anniversary of Toys for Tots Artwork!
On June 3rd, 2022, Charles Fazzino was a guest of honor at the United States Marine Corps Evening Parade at Marine Barracks, Washington, DC. The parade was preceded by a reception in Crawford Hall hosted by the Marine Toys for Tots Foundation in honor of the program's 75th Anniversary. Charles Fazzino was commissioned by the US Marine Reserves to create the official art celebrating Toys for Tots 75th Anniversary, which was unveiled during the reception. Fazzino was accompanied by the Secretary of the Navy, Carlos DelToro, Lieutenant General David Bellon, Commander Marine Forces Reserve, and Retired Lieutenant General James Laster, President and CEO of the Toys for Tots Foundation who also hosted the evening's events.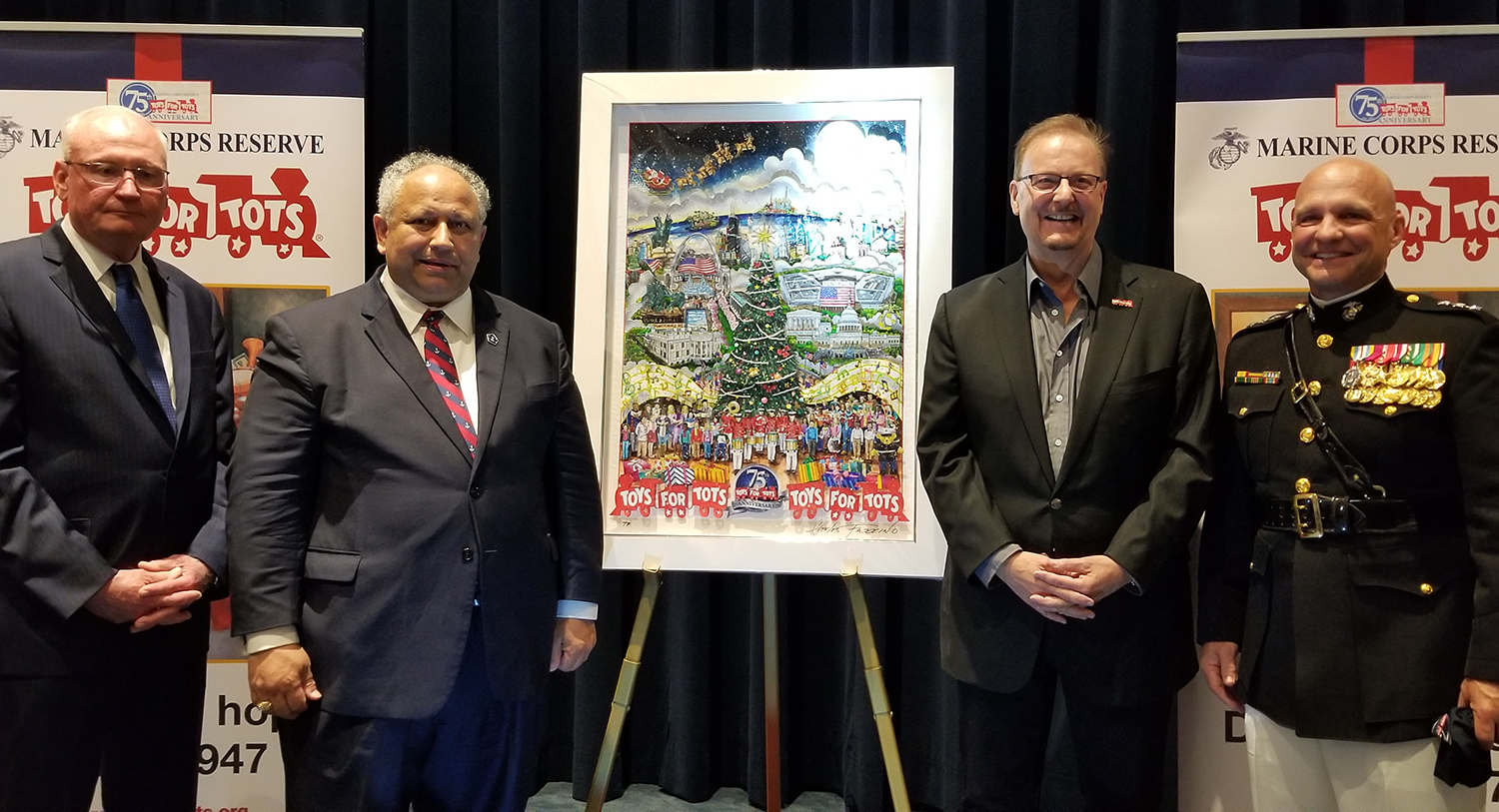 Lt.Gen. Laster, SECNAV DelToro, Charles Fazzino, and Lt.Gen. Bellon unveil Charles Fazzino's official 75th Anniversary Toys for Tots artwork at Marine Barracks DC
Official "75 Years of Toys for Tots" Limited Editions and Posters
Following in the footsteps of Walt Disney, who designed the original Toys for Tots logo, Fazzino created an image that captures the Marine's noble mission of bringing love and joy to children everywhere at Christmas. We are proud to offer this fine art Limited Edition for sale titled, 75 Years of Toys for Tots. Part of the proceeds from each sale of this Limited Edition will benefit the Toys for Tots Foundation. 
In addition to this 3D Limited Edition, Fazzino is also offering posters featuring the official 75 Years of Toys for Tots artwork. Posters are available for purchase at our gift shop with 100% of net proceeds being donated to the Toys for Tots NYC annual campaign.
All purchases of this limited edition and poster will help bring the message of hope to America's less fortunate children.