We are so proud to announce our recent partnership with Sansibar Whisky, one of Europe's premiere private label whisky bottlers. Known worldwide for their long-standing expertise in the selection of whisky barrels, their whiskies are limited in nature, superior in aging, and distributed worldwide. Last year, Jens Drewitz, the CEO of Sansibar Whisky, commissioned Charles Fazzino to create a series of very special art labels for three of his planned limited releases for 2018. Two of the three have just been released to rave reviews among the whisky elite.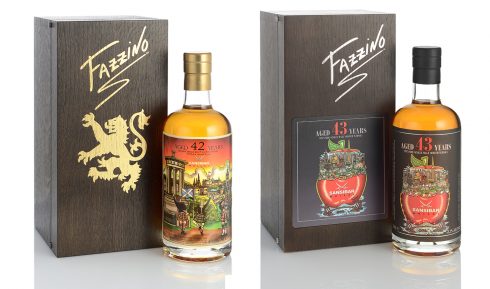 Two Speyside Scottish Whiskies, one aged 42 years and the other 43 years are beautifully stored in delicate bottles featuring the art of Charles Fazzino. Each bottle arrives in a handsomely appointed wooden box complete with informational booklet and tasting notes.  You can have one or both of these precious bottles shipped worldwide by visiting either The Limited Whisky Investment or Sansibar Whisky direct.
The Limited Whisky site accepts orders both from within and outside the EU. If you are inside the EU, you can order direct by setting up an account on the website. If you are outside the EU, you can send an E-Mail to gehlert@limited-whisky.de  and arrange to have the whisky shipped to your country.
Both whiskies have received 90+ point ratings and you can read one of the latest reviews on the Whisky Fun blog. For those afficionados out there, we have reprinted the tasting notes below.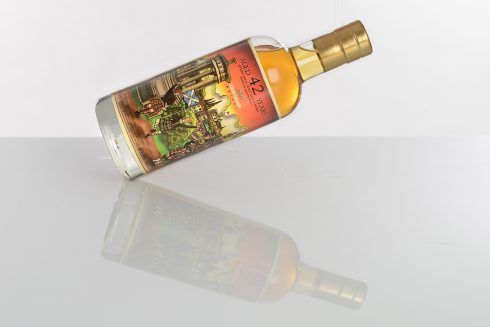 Speyside Region Malt 1975-2017, 42y, 49.8%, 213 bottles, fino sherry cask matured, Edinburgh Dancing Label
Speyside Region 42 yo 1975/2017 (49.8%, Sansibar) Colour: gold. Nose: this is a rather unusual, rather zesty and 'nervous' profile at first nosing, with freshly squeezed oranges and some lemon balm, although some complex notes of beehive are already showing up, little by little. Those are signs of good great age! So we've got both the vibrancy of youth and the complexity of maturity here. Love these notes of pollen, heather honey, and this rather perfect and slightly vinous sourness. Riesling, perhaps. After two minutes, more and more marzipan and chocolate, perhaps that's Mozart kugeln. Mouth: really punchy, less soft and smooth than other older Speysiders, with rather grapefruits this time, a touch of lime-flavoured yoghurt, and then various spicy herbs and roots (thyme, ginger, turmeric) before more classic honeyed notes make a comeback. They would come together with dried figs. Finish: long, with some spicy marzipan, a wee touch of green oak that do keep it zesty and lively. Bitter oranges and turmeric in the aftertaste. Comments: a fighting old Speysider that's packed with action.
To Purchase click on either of the following:
Sansibar – Edinburgh Dancing Label
LimitedWhisky – Edinburgh Dancing Label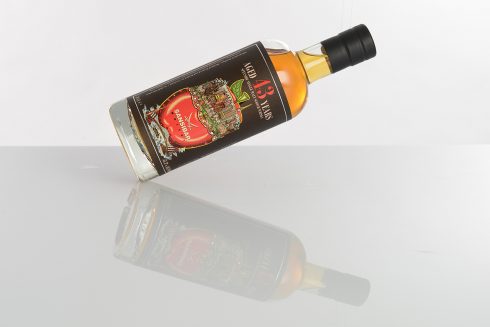 Speyside Region Malt 1973-2017, 43y, 627 bottles, Sherry Butt matured, Big Apple Label
Speyside Region 43 yo 1973/2017 (51.3%, Sansibar) Colour: gold. Nose: starts with subtle whiffs of upholstery, furniture polish, old cigars, cedar wood, and the usual suspects, figs and dates. Then we'd rather find praline, pistachio marzipan, and lovely earthy tones, touches of humus, little mushrooms… With water: opens up like bindweed in the morning and becomes wonderfully honeyed. Some poached pear topped with acacia honey and perhaps a small glass of Sauternes. A little menthol as well, camphor, subtle ointments… Mouth (neat): this is a softer one after the 1975, but it's also very citrusy and tropical. Amazing notes of blood oranges, pink grapefruits, and small guavas. Guavas can be restless and mischievous fruits. Goes on with lemon and orange honeys, and a drop of chartreuse plus a little mint liqueur, possibly from the wood. Impeccable. With water: we're going towards teas, green pu-ehr, green earl grey, bergamots, with a touch of cinnamon and a hint of nutmeg from the cask. Mind you, forty-three years old. Finish: long, with some mead and a little ginger. Caramelised oranges and peppermint in the aftertaste. Comments: this oldie still roars and shows no signs that it has tired of aging for more than four decades.
To Purchase click on either of the following:
LimitedWhisky – Big Apple Label

Purchasing Information
Sansibar Whisky ships world wide! To purchase these wonderful malts, please visit The Limited Whisky Investment or Sansibar Whisky.