Andy Warhol was one of ten artists commissioned to paint murals to adorn the outside of the New York State Pavilion's Circarama Theater for the 1964 Worlds Fair. Not one to shy away from controversy, Warhol used the opportunity to make a statement – depicting the New York Police Departments's 13 most wanted  criminals at the time. Although he feigned innocence in terms of his motive, he did allow the mural to be painted over in silver. The covering of the image was in response to a request made by then Governor Nelson Rockefeller who deemed the mural too edgy for such a family-friendly event. Warhol did offer up a replacement image – a collage of Robert Moses portraits- a tribute to the fairs controversial head. The replacement image was also rejected and thereafter, Warhol never painted another public work.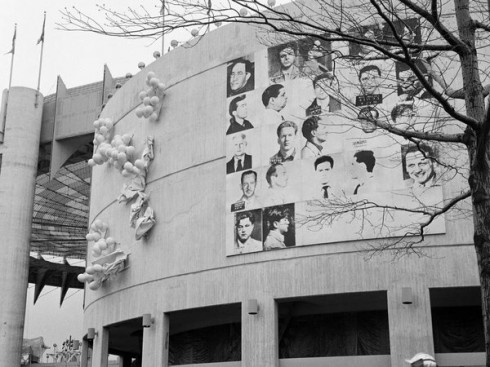 Warhol's "13 Most Wanted Men" Now on Display
He did, however, use the screens from his original creation to reproduce the "13 Most Wanted Men" on canvas. Ironically, those canvases are now central to a new museum exhibit opening on the grounds where the 1964 Worlds Fair took place. The exhibit runs from April 27 – September 7 and explores the history of the work and delves into the social and political ramifications of both its creation and removal. It's a clear look at how art can immortalize the beautiful and the ugly at the same time. It's a medium of communication; a way for an artist to both disseminate information to and alter the world around him. The unanswered question is, of course, just what WAS Andy Warhol trying to tell us and why would he accept a commission to paint for one of the highest profile events in the world, only to create something that he must have know would spark controversy. Perhaps this exhibition will give us a hint.