Charles Fazzino is a long-time proponent of arts education. He's participated in many interactive workshops with kids and tried to keep the subject in the minds of his fans and collectors. We are proud to introduce a new series as part of the Fazzino Arts for Education Initiative. Every 4-6 weeks, we'd like to feature a different arts educator, someone who stands with us in the ongoing struggle to make sure the arts remain part our children's lives. It's such an important component. We've told you why WE believe so…now you'll hear from some "boots on the ground" arts educators. If you'd like to be featured in this blog, please write to us at info@fazzinocollectors.com. We'd like to hear what you have to say!
QUESTION AND ANSWER WITH AMANDA TUCKER
Meet Amanda Tucker, art teacher at Granville Intermediate School in Granville, Ohio.
How long have you been teaching art and how did you get into it?
I have been teaching for three years but I have been an artist my whole life. My mother and grandmother noticed my love of "putting" things together. I would practice drawing by making my own patterns and drawings using different elements. I thought this would be the best job, being able to create everyday. When my sister was in second grade, we found out that she was dyslexic, which was not commonly found in our small, rural district in the 1980's. My mother fought for her right to a good education and for the help she needed. She even home schooled her for a while so that she could get caught up to proper reading levels. She integrated art education into all of her lessons, which helped my sister with her short-term memory, information recall, and her self-esteem. I knew from that moment that art education was the vehicle to learning and my future career.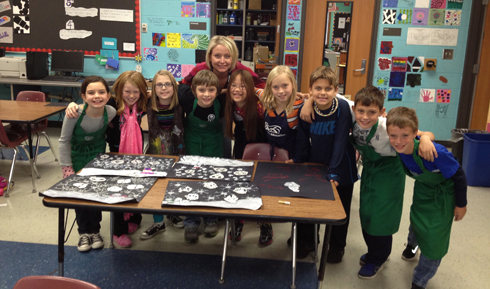 What is the most rewarding thing about being an art teacher?
The most challenging part of my work is trying to teach art to that student who has decided, "I don't like art" or "Why do I need to take art class". So no matter the project, you have to make sure that the student knows that art education has a great connection to popular culture and other subjects. I had a similar case this year and it was so rewarding when a non-art enthusiast asked to spend his recess in the art studio to work on his jellybean mosaic.
Another rewarding project would probably have to be the Dale Chihuly-inspired unit I did with my fourth grade students. These students hadn't been previously exposed to gallery art. The students were educated on the way glass is made, the art of glass blowing, and how to create a "glass" like sculpture. Each piece was then combined into a group project to resemble the Chihuly chandelier found at the Franklin Park Conservatory. I raised money to take them to the Conservatory to view the exhibit. Students answered questions from the docent about the artist and his process. I was so proud!
Tell me about one student on whom you feel art class had the most impact?
I had a student, Ceci, that loved being in the art studio so much that she wanted to spend her recess working on various projects. She had a great knowledge of important artists such as DaVinci and Picasso for such a young age. She was a new student to my school and that can be a difficult time in a child's life. We forged a great relationship through our love of art and she started taking lessons with me on Wednesday's after school. She came up with her own project ideas and I just facilitated the art making. Her mother and I had an arrangement. If her homework or studies started to take a negative turn, then the art lessons were put on hold. She took the lessons as a great privilege and did well in and out of the art studio. I believe art education has had a great impact on her life and she has had a great impact on my teaching styles.
How do you address all of the various levels of talent, skill and interest in Art in your classroom?
I try to incorporate all types of art disciplines and allow students to work through their own processes. They have a chance to explore sculpture, collage, ceramics, drawing, and painting. There will be one or two units that they feel are easier for them and some that are more difficult. So, I incorporate the integration of other subject matters into each unit. For example, writing artist statements allow the artist to talk about and discuss their reasoning, thoughts, and actions; the "Why" behind each step of their artwork. This allows me to grade not only creative talent or skill but through their growth and purposeful creating.
Do you have a "philosophy" about arts education?
I think art education should inspire students to embrace, in a way that aids in the development of their own identity, a way to view society, and to approach life with a sense of deeper thinking. Art education should allow students to not only create but to create with meaning which allows them a chance to form a deeper sense of critical thinking. I think art education can teach children that problems can have more than one solution
 and how to continually ask questions.
If I walked into your classroom, what would I expect to see?
You would see students working independently on their projects, moving around the room to get supplies, and talking enthusiastically. Some units require that students work in groups and so you may see students spread out on the floor, using instruments to create music that works along with a particular art installation. I have plenty of examples on display and incorporate art history references along with modern day artists and exhibits to get creative juices flowing. You will find me sitting with students at their tables or on the floor as I like to work along side my students rather than teach to my students. I encourage my students to use the art studio as their own place of discovery.

Do you create your own art? In what style?
When I am creating or working in my own personal art studio, I really enjoy the rich colors and textures I get from oil paints. I love painting anything from nature and landscapes to abstract patterns. I also enjoy 2-dimensional works using paper, fabric, and found objects. I grew up with a grandmother and aunt that knitted and quilted which they passed onto me. I am able to create fashionable, modern items from an age old art form.
Do you have a favorite artist?
This is such a hard question to answer! Growing up, I read books about the classics like Van Gogh and Michelangelo. Once I got to my first college art class at The Ohio State University, I fell in love with the whimsical and some what confusing work of Salvador Dali. This harnessed my love of art history, painting, and sculpture. Now, as an adult, I favor the modern ideas of Ann Hamilton and, of course, my own students!
If you want see more of what Amanda's students are up to, tune in to her blog and follow the kids' current projects.