You know what "Crocheting" is, right? But, have you ever heard of "YarnBombing?" The average person is familiar with the word Crochet as "a handicraft in which yarn is made up into a patterned fabric by looping yarn with a hooked needle." However, in the art world, yarn artists have expanded this craft using vibrant colors and intense creativity to spread their personal messages of love, gender equality, and peace. This form of art has been hitting the streets of cities all around the world, from Indonesia to Denmark, and even to our home town of NYC!
The technical term "Yarn Bombing" or "Chrochiti" (aka crocheted graffiti) has been turning up in a variety of places NYC for almost 20 years by Yarn Artists such as Agata Oleksiak (Olek), London Kaye O'Donnell, and Hottea (Eric Reiger). Many artists have opened the doors to the world of crocheted graffiti and have even added spray paint and stencil to their yarn canvases. Some have even displayed the yarn in geometric patterns. The level of detail and intricacy is sometimes mind-boggling and you find yourself wondering "how did they do that?" There's no denying it, no matter where or when you might catch sight of these creative bombs, they are quite the conversation starter!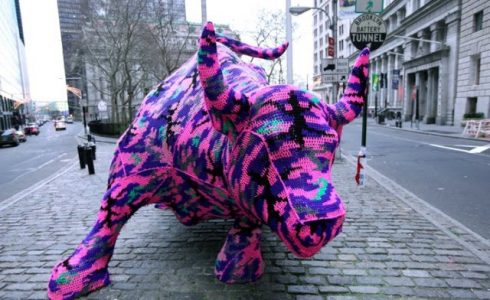 Olek " The Charging Bull" Wall Street, New York City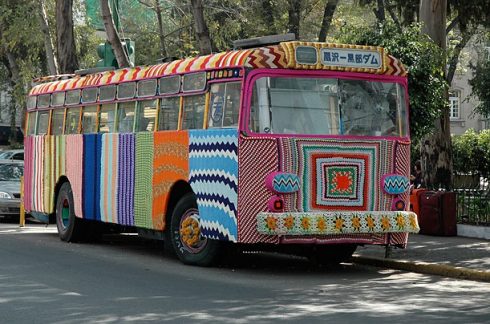 Madga Sayeg "Groovy Bus" Mexico City, Mexico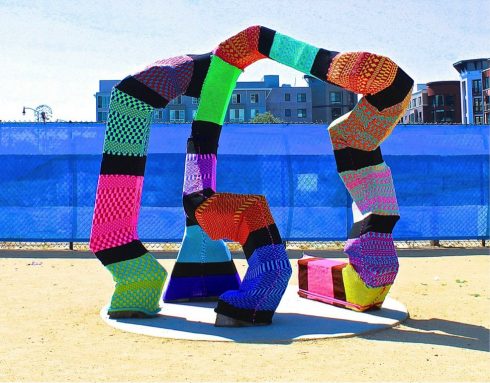 If you happen to walk by and see these bombs of creativity, it's important to look beyond the texture of the yarn, the vibrant colors, and what the canvas is covering; but to understand the message the artist is trying to convey by enclosing the object with a new coat! Eric Ravelo, an incredible yarn artist, turned many heads during the Fashion's Night Out POP up shop where he knit two bodies in positions that connected them intimately. Entitling the display of affection as "Lana Sutra" his message was that "love unites us despite differences." This was just one of the many examples of how this type of art can spread the common theme of artistic expression as one's personal perspective will portray how they internalize the message they are seeing, for it was not only a conversation starter, but a controversial one at that!
These playful distractions will without a doubt brighten your day, tell a story, and allow you to capture art on your smartphone!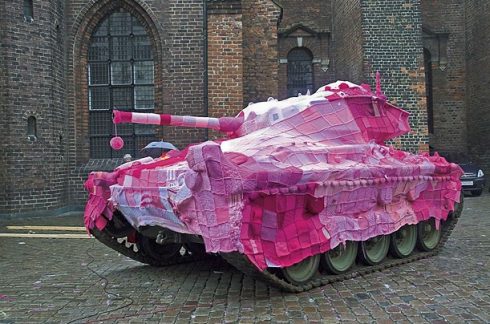 Tank Blanket- Military Tank Copenhagen, Denmark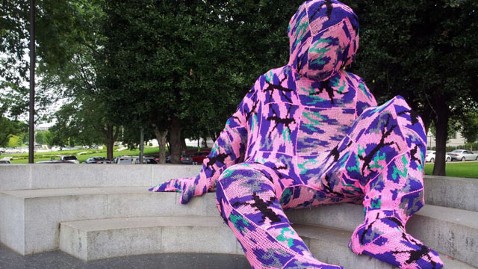 Olek, "Albert Einstein Memorial Statue" The Modern Met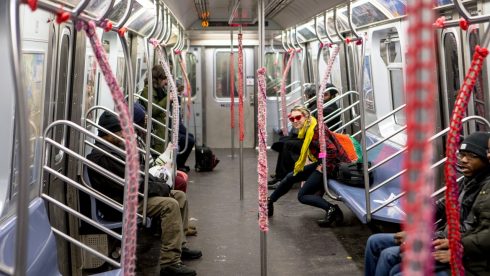 London Kaye Valentines Day Yarn Bomb on the L Train
What other things would you like to see dressed in yarn? Comment below or connect with us on Twitter or Facebook!