We recently met a true hero on the Arts Education front and her name is Karen Nobel. We came across an Instagram post from her KIDS NEED MORE ART studio in Florida that featured a Fazzino-inspired art project she had recently completed with a group of children. Little did we know that we had stumbled onto a passionate powerhouse who not only teaches art but inspires educators, parents, and kids alike. "I'm very passionate about the culture and the movement. I fight against the stigma that art education has in comparison to music, theater, and dance programs, and I show people how art can be a viable form of enrichment for kids, teaching them how to be creative in their communities and lives."
Her original aspirations were in the theater and at one time, she was a member of the Screen Actors Guild, and as she describes it, "a struggling actress." When she started her family, she realized it was time to acknowledge that theater life was tough. But she wasn't about to abandon her love of kids and her desire to teach. She enrolled in a small Catholic college in New Jersey and went in search of a "teachable subject" in which to concentrate. She discovered art and the rest is history.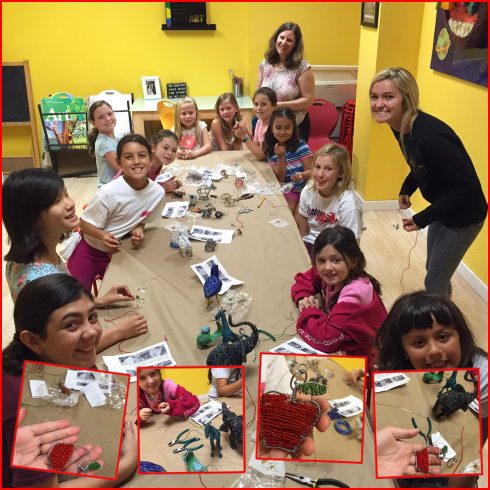 Karen is the owner of Kids Need More Art, a "teacher-created, advocacy-based children's art studio." She and her staff offer art classes, camps and special programs. "It is my hope that our parents and teachers will join us on this journey to encourage, nurture, and protect a child's creativity by choosing to support the visuals arts as an integral part of our schools' academic curriculum and community enrichment programs." She approaches her mission with an energetic zeal that is contagious, preaching the value of creative learning, independent thinking, and the role that the arts have to play in fostering both.
She recently engaged Martine Lipnitzky, a WiredArt teacher, to lead a class during which a group of kids created Charles Fazzino-inspired Wired Apple Keychains. That's where we discovered her! The young artists took wire threaded with beads and wrapped and secured them onto the frame to create the apple key rings. This technique of beading a wire frame is inspired by South African artisans who create amazing wire art. An outreach uplifting business in Cape Town is one place where these artisans can sell their work. "I loved it when we stumbled across what Karen and Martine were doing," stated Charles Fazzino. "It's moving to me to inspire kids to engage in the arts. I'm always impressed to see how teachers are able to adapt my artwork to a lesson plan for students. I think it's wonderful!"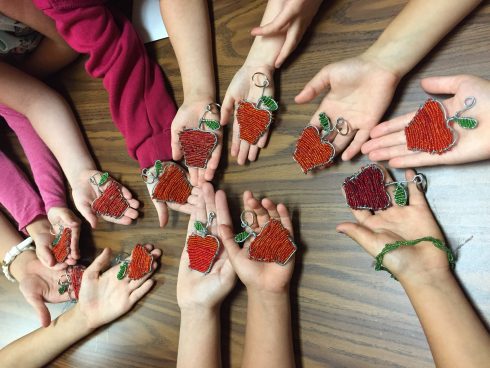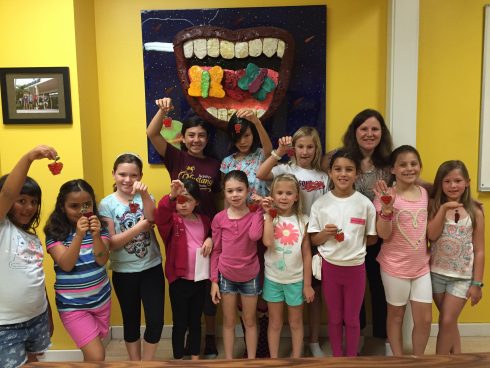 Tell us what you think! Share your thoughts in the comments below or on Facebook or Twitter!