Calling all Baseball lovers, the Major League Baseball All-Star Game is near! This "Midsummer Classic" marks the symbolic halfway-point in the MLB season where the All-Stars from both the National League and the American League compete for the title of 2017 All-Star Champions. What these MLB players don't know is that they are not the only ones who are competing to win something…
It's All-Star Trivia Time!
Trivia lovers, now's your time to shine. That's right, start mustering up the years worth of fun facts you've been archiving in the deep dark depths of your head space because you're going to need them! These weekly #TriviaTuesday contests will be held on our Facebook, Twitter, and Instagram pages and will look something like this: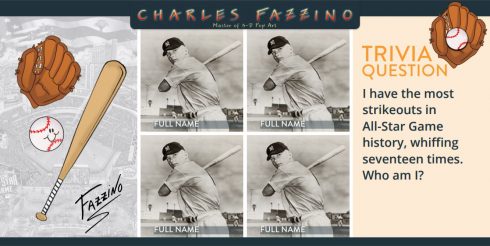 So, what does it take to win? Charles Fazzino will ask a All-Star related question and you, the trivia aficionados that you are, will pick from four possible answers for a chance to win a signed 2017 Fazzino All-Star Game poster! Yes, it's that easy! The contest starts tomorrow, June 13th, at 12PM EST!
Did You Know?
Not only does Fazzino's baseball pop art collection include tributes to the New York Yankees, LA Dodgers, Chicago cubs and more, he has also designed helmets, pins and commemorative 3D prints, all of which you can check out on the Hand-Painted Sports Art Equipment Page. Fazzino has been designing anything from All-Star Game Posters to hand painted baseballs for years, but now it's your turn…
All-Star, Ball-Star Baseball Contest
Weekly Trivia contests and a All-Star Ball-Star contest? No need to rub your eyes, or pinch yourself because you're not dreaming! Fazzino wants you to get creative and send in your baseball creations for a chance to win a a hand-painted limited edition 2017 All-Star baseball valued at $1,000!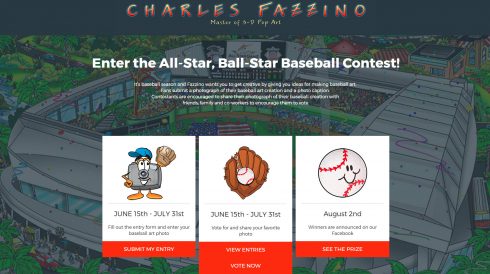 Here's the Pitch
With baseball season at it's prime, Fazzino wants to see how creative artists of all ages, genres, and levels of experience can get with re-purposing old baseballs in the name of art!
As with any piece of art, no two baseballs are the same. Participants are encouraged to enter more than one baseball, as long as each design is unique. Once these pictures are submitted on the official contest form, via Facebook or Instagram, the voting begins! Get your family, friends, teammates, and coworkers to vote for their favorite designs (one vote per person). Dates to enter your baseball design and cast votes run from June 15th to July 31st, and the Grand Prize winner will be announced on the Official Charles Fazzino Facebook page on August 2nd, 2017. Click here to enter the contest!
Ball Star Contest and Weekly Trivia Recap
The Weekly Trivia contests are held on all of our social platforms starting at 12PM EST tomorrow June 13th through July 11th. The Ball Star Contest Starts June 15th and you have up until July 31st to submit your baseball works of art!
Good Luck!
Share your thoughts in the comments below or on Facebook or Twitter!